Tag: Leo
by Ben Daniels (Admin) on Nov.22, 2014, under SUCKoffGUYS
Jesse is a hot hairy straight man with whom we already had some oral fun earlier, and he seemed totally impressed with the fact that gay guys were so eager to suck his cock and even swallow his cum, that he had to tell about it to his long-time buddy Leo. Leo is a married guy, but ever since he heard about his buddy's experience with gay cocksuckers, he couldn't get it out of his mind. Leo decided he had to give it a try, and see for himself if it's really true that guys suck cock the best.
Leo said he was concerned whether his wife might stumble across his video where he gets blown by a guy, so he said he could participate in our video but provided that his face remains unseen.
Pretty soon the main cocksucker appears (Seth Chase), who has an insatiable hunger for straight cock and jizz. I have a sneaking suspicion that even if we offered him ten straight cocks to suck them dry in a row, he would say no problem!
So the two straight buddies (Jesse and Leo) are standing next to each other, and Seth gets on his knees and grabs their cocks. Leo's cock is already awake and getting hard – a sure sign that he was very eager in anticipation of this historic even in his sexual life – getting a blowjob from a dude.
Soon enough both guys' dicks are fully erect and Jesse has some transparent precum leaking from his cockhead. He swallows it immediately and keeps sucking their both cocks. Finally the guys get relaxed and start to enjoy the exquisite passion of a blowjob performed by a hungry male cocksucker. On the other hand, Seth is spellbound with two big straight erect dicks in front of himself, it's a rare sight to behold!
After some more time Leo starts to twitch as he is approaching the orgasm – which Seth wisely took as a sign to move away from his cock a little so that he could catch the whole load in his mouth. It was a rather explosive cumshot, and the jizz went in all directions, but Seth managed to catch the major part of it on his face. Seth makes sure that every drop of his cum gets licked and duly swallowed.
Jesse still hasn't cummed and we can feel that he's now quickly approaching the moment when all that jizz in his balls would be released with great force. Jesse must have been at least a little turned on by having just seen his best friend cum in the cocksucker's mouth. Jesse soon unleashes his load and aims straight into Seth's wide open mouth. His load is pretty big, and one squirt of his warm cum went straight into Seth's eye! Seth wasn't distracted by this, and just kept slobbering and sucking on that hard stiff manmeat as a true professional that he is. Seth keeps the warm jizz in his mouth for some time, then swallows it all.
Well guys, I think this is a good demonstration of the true meaning of the phrase "sucked him dry".
Preview video:


Click here to watch their complete video in perfect HD quality at SUCKOffGUYS!
SUCKOffGUYS is a very interesting and hot amateur gay porn site that focuses on blowjobs, cum eating, cumshots, cum play and all things cum! The site owners are obviously total cum pigs and it shows. Be sure to check them out if you're into beautiful hard cocks, blowing stiff rods and sperm in all varieties.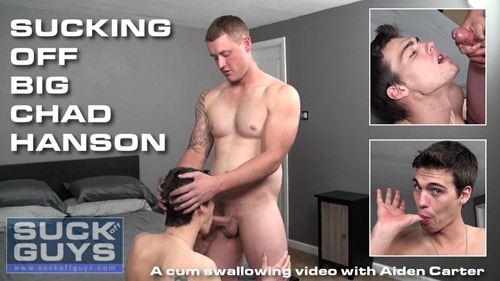 1 Comment
:beard, big cumshot, blowjob, cocksucker, cum eating, facial cumshot, hairy chest, Jesse, Leo, Serviced, Seth Chase, straight men
Click For More...
by Ben Daniels (Admin) on Sep.04, 2011, under TheCastingRoom
Leo is a straight, studly gogo dancer who works both in gay and straight clubs. Strangely though, he has never been fully naked in front of the camera, much less had sex that way.
Our stern editor thought that it's was about time this cocky masculine stud stopped teasing everyone with his seductive dancing and let us see what is "under the hood".
He might have thought the procedure would be somewhat humiliating or degrading (especially the part with him being forced to pull open his ass cheeks to show his asshole), but the editor didn't care one little bit.
Luckily for him, the editor liked what he saw quite a bit, and there's good chance that we will be seeing this hunky, macho straight fucker again and again!
Short preview video:


Click here to watch his entire video in perfect HD quality at First Auditions!
First Auditions is a great and original porn site that features young, cocky straight men who want to earn a lot of money by becoming porn stars. They think they'll be accepted right away and bang lots of chicks, but what they don't know is that our gay editor is very strict and wants to see them naked and how they jerk off during the audition. Lots of drop-dead sexy men here!
Leave a Comment
:big dick, cumshot, gogo dancer, jerking off, Leo, macho men, muscled, straight dude, uncut cock, wannabe porn actor
Click For More...