by Ben Daniels (Admin) on Oct.23, 2018, under CMNM
Austin is a hot, masculine rugby player who joined the Crown Castle Rugby Club with full confidence that he would be able to instruct and teach the other players about the techniques of Utmost Fitness. He was sure that he could persuade them that these techniques are superior to any other workout program.
Unfortunately, his video demonstration has gone terribly wrong, and only proved what a dirty little pervert he is. Just half an hour ago he participated in the hazing of his teammate Leo, and now the same fate has befallen himself! His teammates are eager to find out if he is a genuine or a fake, and they challenge Austin to demonstrate his "techniques" right there in front of them all.
Meanwhile, Leo is still completely naked and somewhat relieved because he can now watch with a smug grin on his face how Austin gets hazed in the same way he was only a few minutes ago. Austin thoroughly enjoyed taunting Leo and Leo is now enjoying the cheap thrills of instant karma that has come to bite Austin in his ass so quickly! Meanwhile, Austin can only rewind the "tape" in his head and remember what he and other teammates did to Leo not so long ago. Austin's cock is totally hopeless and can't help but grow to its full erection when he is confronted with Leo's masculine muscular body. Alas, men are such hopelessly horny creatures…
Hazing of Leo only half an hour ago…
Check out these pervy men's wanton adventures in their whole videos in HD quality at CMNM.
Clothed Male / Naked Male (CMNM) is a hot porn site where Nervous straight guys get stripped naked, groped and violated by fully clothed men.
There's nothing better than stripping straight lads completely nude, putting their bodies on display, and teaching them exactly how to submit! When they are in such a submissive position, one would be crazy not to use the opportunity and jerk them off.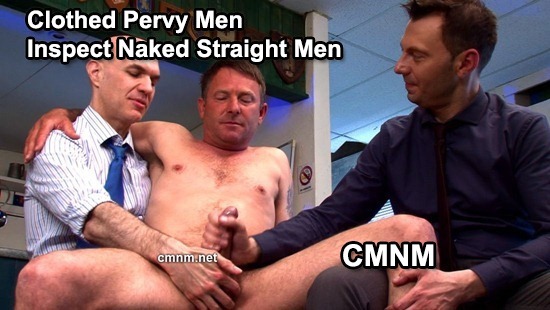 :Austin, big dicks, Clothed Men, hazing, inspected, Leo, muscled, naked men, rugby players, shaved head, spontaneous erection, uniformed men