Tag: Scottie
by Ben Daniels (Admin) on Nov.08, 2013, under SpunkWorthy
I'll be straightforward with you – it wasn't easy to talk Tommy into fucking a man. He was pretty adamant about not wanting to do it and I had almost forgot about the whole idea. There's a saying, though, that pretty much any straight man has his price, so I upped the cash amount and lo and behold – Tommy said yes! It's quite a bit of cash, mind you, and if you ask me I wouldn't think twice about fucking either a man or woman for that amount of green papers. Tommy is an all-around hot straight man, but the thing that really stands out is his huge, thick monster cock! It measures 7 inches in length and 6 inches in girth, so it's a tool to be reckoned with. I was really curious to find out how it would look like when he bones another dude's ass with it.
Now, we've already met Scottie, a super cute and handsome muscled dude who would like to experiment more with his bisexuality, and, especially to experience more of the bottoming role with other men. He already bottomed for beefy straight Nicholas, but this is going to be his first time to receive a truly huge dick up his tight ass. When he saw Tommy's dick on the pictures he got a bit concerned whether he'd be able to accommodate that kind of super-sized man's rod in his almost virginal ass, but he promised that he'd do his best. Luckily, everything went well and, in short, Tommy gave Scottie a fuck of his life.
First, Scottie didn't want to waste any time but proceeded to suck Tommy's tool right from the get go. I swear I thought that Scotty would get scared when Tommy's cock grew to its full size and girth – I mean, it's fucking huge – but Scottie decided to take it as a man.
After having given Tommy a nice sloppy blowjob, Scottie put on some lube on Tommy's dick and began to impale on it slowly. There were some issues at first, but ultimately Scottie's wish to feel that delicious huge cock deep inside him prevailed, and he succeeded in receiving it completely inside his ass. All the time Scottie also stroked his own cock which remained hard throughout the shoot.
Next, Scottie changed the position and got on his back while Tommy spread his legs and started to fuck him like that. Tommy seems to have forgotten how big he is and started to just fuck Scottie regardless of the pain Scottie was going through. Scottie decided to be a man about this and took it all with only a bit of grunting and moaning.
But that wasn't the end of Scottie's troubles. Tommy had not finished with his ass yet. The next position was doggy style and both men got into a really furious mode. Tommy now pounds Scottie really hard so that Scottie had to grab the pillow with his hands, trying to get over the intense feelings from Tommy's unrelenting, merciless assaults in his ass. Scottie even bit the pillow as it must have been intensely painful for him.
Tommy turned Scottie around and started to shoot his jizz all over Scottie's six pack. Only a few short moments after that Scottie followed suit and shot his load. Obviously, all that pain wasn't only just pain, he was enjoying it a lot and Tommy proved to be a good top who can fuck the jizz out of a man. Scotty's load flew all the way to his chest, which suggests his hole was fucked really well and he had built up a lot of pressure in the balls and prostate.
In the end we had two sweaty men, Scotty's body covered with jizz and his hole demolished. When I asked Scotty how he liked the experience he said, "A lot… but good." Well, he ain't a virgin anymore, that's for sure.
Preview video:


Click here to watch and download their entire video in HD quality at SpunkWorthy!
SpunkWorthy is a great porn site that features younger straight amateur dudes. Lots of truly straight military guys doing gay for pay only once or a few times! This site is usually the first and only place where you'll see these bad boys, so don't miss out!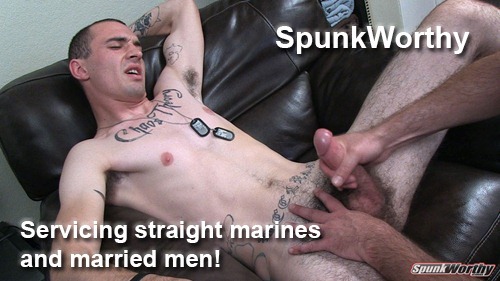 Leave a Comment
:blowjob, cumshot, fucking, huge cock, muscles, Scottie, shaved head, straight men, studs, Tommy
Click For More...
by Ben Daniels (Admin) on Oct.04, 2013, under SpunkWorthy
Nicholas told me he was interested in experimenting with other men and I wanted to provide him with someone whom he would remember fondly. No way I would allow that Nicholas' first encounter with man-on-man sex is remembered as anything other than awesome. So I called a new guy on the block, super handsome Scottie.
Scottie said that he wanted to bottom for Nicholas, and that's something that rarely happens with straight and even bicurious guys. It usually takes  a lot of persuasion and smooth talk (as well as considerable piles of cash) to talk them into bottoming, but Scottie has obviously already made up his mind about this. He was very eager to experience another man's hard cock up his tight ass, and by gods I had to find a suitable man for this job. Nicholas, with his 220 pounds (100 kg) of hard muscles seemed like an obvious choice and I am glad that these two clicked very well. Actually, they say they already did some shoots for some other porn site so they already know each other.
Being familiar with each other, there was no need for pleasantries, but Nicholas got down to work right away. He takes out Nicholas' dick and starts sucking it in order to make it nice and hard for his ass. It seems to me that Scottie is pretty versed with the art of cocksucking, he didn't appear to be a newbie in this area at all. Nicholas noticed the same thing so he kept saying "That's great!" He even added "You should teach classes."
Next, Nicholas stood up Scottie got on his knees to service Nicholas like a true cocksucker. Nicholas' fuck stick is by now fully erect and quite hard. Scottie suddenly became a little nervous about receiving Nicholas' cock up his ass, and he commented "It's gonna be interesting (to feel that cock in his ass)", but as soon as Nicholas' cock penetrated his hole and he adjusted to the feeling of a man's cock inside him, he started to get cool about the whole thing and to enjoy the ride. There's one thing new bottoms should know about – breathe deeply and let your ass adjust to the cock, and Scottie seems to know about this rule.
As soon as they got into the game everything went smoothly and both guys became quite loud and verbal, uttering short naughty phrases of pleasure, such as Scottie's question "You like that?" right after Nicholas commented "juicy little ass".
But it wasn't until Scottie bent over and let Nicholas pound his ass doggy style that we could see some really intense fucking. Nicholas showed his wild side and began to fuck Scottie's tight little ass like a merciless thug. 
Finally, the guys assume the position where Scottie lies on his back, legs pulled up in the air, and Nicholas shoves his cock deep inside, balls deep. Nicholas managed to rest one of his legs on Nicholas' shoulder. Nicholas then grabbed Scottie's cock and continued to nail his ass hard and deep.
Scottie is now on the verge of cumming and he says "I'm gonna cum." After several moments he couldn't take it anymore and starts shooting his load all over his ripped belly. It seems that Scottie's orgasm had a cum-inducing effect on Nicholas and soon enough he pulls out and shoots his load as well. It was a really huge load with lots of cum squirting from his cock and hitting Scottie's muscled torso.
Preview video:


Click here to watch and download their entire video in HD quality at SpunkWorthy!
SpunkWorthy is a great porn site that features younger straight amateur dudes. Lots of truly straight military guys doing gay for pay only once or a few times! This site is usually the first and only place where you'll see these bad boys, so don't miss out!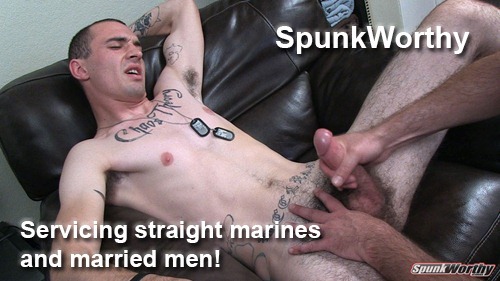 Leave a Comment
:bicurious men, big cumshot, blowjob, fucking, muscled, nice big cock, nicholas, Scottie, straight men, tattoos
Click For More...