by Ben Daniels (Admin) on Mar.07, 2016, under BaitBuddies
Owen is a newcomer in this porn business and this is his first time to be in front of the camera. He has some friends who previously participated on Baitbuddies, and that's how he got interested for this whole thing. Owen's big fantasy and fetish is to have sex with truly straight guys. He says there's a level of uncertainty, challenge and mystery that makes the whole thing worthwhile, as opposed to just regular sex with gay dudes.
At 6 feet and with 175lbs of hard muscled and hairy body Owen looks pretty good, just as you'd expect your porn actor to look like actually. Luckily, casting director Caruso knew a perfect match for Owen – a certain straight jock who was all too eager to fuck some pussy and goes by the name of Scott. Scott is a total cutie – he's got a well-built athletic body and his face oozes with cuteness. Scott's dick is almost as big as Owen's, to be more exact it's about 7,5 inches of nice hard manmeat.
As you'd expect from a straight dude, Scott was totally obsessed with that promised pussy (that never arrived). After the initial interview, the boys are instructed to get their dicks hard, so as to ensure that they can maintain erection for the main part of the video with the girl.  Scott often brags about the fact that he used to be in a three way before, for instance once he fucked his slutty college roommate's girlfriend together with that mate of his.
Owen is spellbound by Scott and his eyes seem to be glued to Scott's hard cock. Once the boys are given the bad news about the girl that won't be coming, they are told that they would get double the money if they agree to have sex with each other. Scott is very reluctant at first, and doesn't like the idea at all… "I don't know if I can do that… I'm not going to let a guy suck my dick". Well, so many straight guys have said the same thing and then loved the expert blowjobs given to them by gay guys. Although Scott is reluctant, he notices that Owen is up for it and the promised money sounds nice, too, so eventually he agrees. Soon enough we can watch Owen stroking Scott's hard cock while Scott looks totally confused, but not in a bad way.
In the end Scott lets things go their own way and doesn't impose a direction on events any more… he seems to like what Owen is doing to his cock. Owen grabs Scott's cock and pulls it over and onto his own cock – now that's a sight to behold: two really big, thick cocks one on top of another! Scott instinctively reaches for Owen's cock and strokes it a bit. Now as we say here, there's a first time for everything and Scott is learning the lesson about stroking his buddy's cock.
Within minutes we can see Owen on his knees and sucking Scott's hard meat like a sex obsessed maniac. Owen really likes Scott and his cock and soon enough the boys switch into a passionate and erotic blowjob session. Caruso tells the boys to stand up so they can compare their erect dicks. Scott is certainly bigger than Owen, and perhaps even bigger than what he told Caruso in the introductory email. His cock has to be at least 8 inches, and it's really fat and of imposing size overall! Owen couldn't resist to kiss Scott, which made Scott laugh a little, but then they both kind of liked it and proceeded to kiss passionately. Scott now strokes Owen's leg without much thinking, and when he finally realizes what he's doing he immediately stops. How funny!
Caruso then tells Scott to give cocksucking a try and practice on Owen's dick a little bit. Scott is hesitant at first, but then says to himself, "what the hell I can do it"! He slowly swallows Owen's big fuck stick and starts sucking. He managed to swallow at least a half of it, which isn't bad for a beginner. Owen's cock liked the attention and remained rock hard throughout the session.
Scott previously told Caruso that he likes butt play and likes to fuck his girlfriends in the ass. So it shouldn't be such a big leap forward for Scott to take advantage of Owen's super tight asshole. He bends Owen over, lubes his cock and after hearing Owen's plea to be gentle ("go a little easy, it's not like a pussy"), he finally shoves his dick into Owen's eager ass. Owen could only say, "that's a big dick!" and moan a lot. Scott fucks like a pro, without saying much, but after some time he starts fucking Owen's ass really hard. That ass certainly got its fair share of hard fucking from Scott. Scott remains silent throughout the shoot.
Owen then turns on his back and Scott plows his ass in that position for a while. It's hot to see how Scott always penetrates Owen easily, despite his huge cock. Again, Scott plows that ass pretty hard and Owen could only stroke his cock in the same rhythm as Scott's relentless thrusts. Soon enough, though, Owen is close to cumming and says "I'm gonna cum" and shoots his load all over his stomach, the couch and even onto his hand. He moans and groans and looks at his straight lover with eager eyes. Scott continues to fuck him relentlessly for some more time, then he pulls out and strokes his dick. Owen wants to get a nice facial and tells his fuck buddy, "I want it all over my face". Owen positions his face in front of Scott's cock and awaits to get plastered all over his face. Scott finally unleashes his torrent of jizz and shoots several big squirts of hot cum straight into Owen's wide open mouth. Owen swallows most of it, as every cocksucker should do!
Preview video:
Click here to watch their complete video in HD quality at Bait Buddies!
Bait Buddies is a pretty hot straight guy site with plenty of updates and some very hot guys indeed. There is always a "bait" dude who is bi or gay, and a straight (or sometimes "straight") dude who needs to be seduced into gay sex.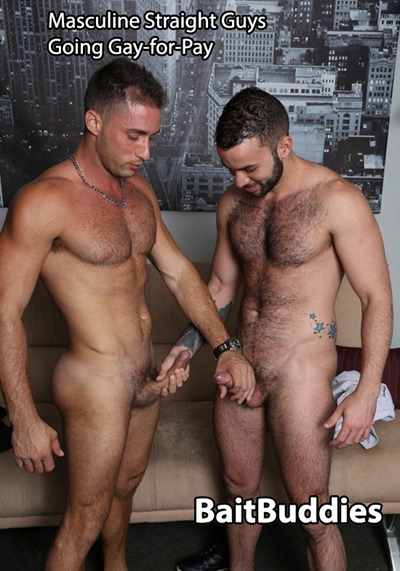 :beard, blowjob, first time gay sex, gay for pay, hairy chest, hairy legs, hardcore fucking, heterosexual, huge cock, muscled, Owen, Scott, straight men, thick cock