by Ben Daniels (Admin) on Jun.25, 2015, under BaitBuddies
Today we have two guys who are real friends in real life – gay boy Peter and straight boy Kory. Peter is a handsome, 24-year old lad, typical American, with blue eyes and nicely toned, muscled body. He also sports a really huge 10-inch cock! Like I said, Peter is gay and very cocky indeed! He tells us how he doesn't really have to try to find sex, sex finds him. He says that guys (even straight guys) approach him and make advances in public places.
Well, this hot cocky boy has a very nice straight buddy called Kory. Kory is still in college and hails from Texas (we'll see if the old saying that 'everything is bigger in Texas' still holds up). Kory's current girlfriend is actually one of Peter's best female friends. Peter has tried to get Kory into his bed for quite a few times, and Kory's girlfriends were always knowledgeable about it, and always found it an interesting and tantalizing fantasy. However, Kory and Peter haven't had anything sexual – until today.
It did help matters that Kory is pretty broke at the moment, and we all know that going gay for pay is the fastest way to earn some easy cash… so here we have the two best friends in front of our cameras now.
Kory is only 23 years old, pretty tall (5'7") and has hazel eyes, brown hair and a very big cock that measures almost 8 full inches. Kory's body is more or less lean with some nicely toned muscles, and I must say he does look pretty hot with all that youthful energy overflowing. While Peter's cock reacts to dudes, Kory has some quite different objects of worship – he loves tall girls, similar to his present girlfriend who is also pretty tall. The two guys have often talked about their first sex, but it is only now that they'll get to make this a reality.
You can tell that Peter is very excited and virtually burning with desire for his straight buddy. He assures Kory that "he'd probably like it", but Kory is not terribly convinced and replies with "I don't think so." The director tells Peter to take charge of the situation and the two guys start making out – can we say awkwardly? Yep, but still hot, like two inexperienced teenagers going at it for the first time. It's awkward mostly because these two have known each other for so long and have always been best friends… now when they are supposed to get sexual with each other it's awkward, but entirely understandable!
Kory is so new to all this gay stuff that he even had no idea what "a top" and "a bottom" meant. Caruso had to explain what these terms mean during the interview after the shoot. Little by little, the guys take off their clothes and you can immediately notice that both of them are fully hard. Kory's cock is also stiff and very hard! The whole awkwardness slowly dissipates and the guys start going with the flow, as it should be. Peter greedily sucks his buddy's cock, and you can tell he's doing it right, Kory even commends him, saying "my girl never did it this good." Duh! As if we didn't know that!
It seems that Peter was surprised how big Kory's cock is. For a smaller guy like Kory, he thought that his cock wouldn't be so big, but I can assure you – Peter did not complain about Kory's cock size! Kory now wants to return the favor and sucks Peter's immense dick, trying at times to deepthroat it, but it's not easy. Peter encourages him to deepthroat it, saying things like "go all the way down on it", but Kory replies "I doubt that's going to happen". Peter is insistent that his friend tries deepthroating it, and eventually Kory goes to town with his gay buddy's extra-large cock. Kory's cocksucking skills are still at the beginner's level, but for a straight boy he's doing pretty good.
Peter got really excited from all that cock sucking that the only thing left on his mind was how he wants to ride Kory's large erect prick. Kory puts on the rubber and Peter slowly sits on it. Peter is mad with desire and yells, "oh yeah, fuck me!" and Kory starts fucking him. It seems Kory liked Peter's bubble butt so much that he really fucked it nice and hard and with gusto. Peter reached the point of no return pretty quickly, though, and shot a nice big, sticky load all over his chest. Kory then pulls out and adds his load over his buddy's.
Preview video:
Click here to watch their complete video in HD quality at Bait Buddies!
Bait Buddies is a pretty hot straight guy site with plenty of updates and some very hot guys indeed. There is always a "bait" dude who is bi or gay, and a straight (or sometimes "straight") dude who needs to be seduced into gay sex.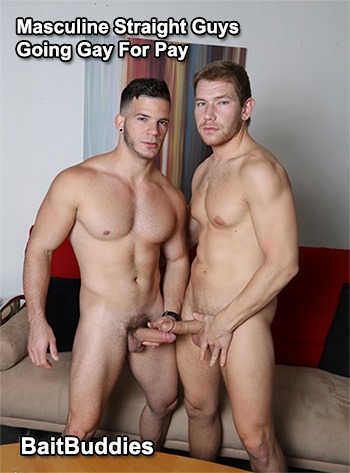 :big dick, blowjob, blue eyes, deepthroating, gay for pay, handsome, Kory Houston, muscled, Peter Fields, real life buddies, stiff cock, straight men, toned body