Tag: steam
by Ben Daniels (Admin) on Jul.19, 2012, under Rate These Guys
I was feeling a bit depressed today but when I got this new video from Frazer, it really lightened me up!
Frazer fulfills his fans' request to take a shower and film the whole thing. It is so damn hot to watch this hairy, muscled and masculine dude slowly washing his body. I've always loved shower scenes because there's something primal about hot male body engulfed in steam and water droplets.
Perhaps you'll think it's a bit inappropriate to watch this essentially private act, but I found it even more exciting because of that. Watch for the moment when Frazer begins to piss inside the tub.
Short preview video:
Click here to watch or beat off to his entire videos at Rate These Guys!


All these hot straight boys on RateTheseGuys are desperate to earn high ratings on their videos, and YOU have CONTROL over how much cash they make and what they do in the future. Create CHALLENGES for them, leave explicit comments and interact with your favourites.
Rate These Guys is a brand new porn site for lovers of cocky, hot straight guys. The principles and rules are simple:
YOU:
The guys make videos.
You comment on their videos, as explicitly as possible.
You offer to give them a high rating.
The more they satisfy you, the higher the rating they get from you!
THE GUYS:
They shoot themselves on video.
They send the videos in.
They read your comments.
They try hard to please.
…And the guy who receives the highest rating…. WINS!

Leave a Comment
:Bathroom, Bathtub, Big feet, facial hair, Frazer, hairy chest, hairy legs, masculine, pissing, shower scene, steam, strong calves
Click For More...
by Ben Daniels (Admin) on Mar.30, 2012, under SeanCody
I suggested to Brodie and Phillip that they take a hot shower together. As soon as the steam began to form in the bathroom and  the boys took off their clothes (keeping only their underware) their dicks began to get hard and I think you'll agree that they both look amazingly hot with their big erect dicks, protruding through the pants!
Phillip started to thoroughly examine Brodie's body with his mouth, paying special attention to Brodie's armpits, bush around the balls and his feet. It seems that Phillip loves the way Brodie smells!
Then Brodie took charge and started to manhandle Phillip, pushing him aggressively around the shower and making it all too obvious that he wanted him.
"It's like our very own water park," Brodie said. Then he picked Phillip up and carried him to the other side of the room.
But first Brodie started to face-fuck Phillip, shoving that cock deep inside his mouth. Phillip was hungry for cock too, because he seemed as if he was begging to be fed with Brodie's dick.
"He has a really great cock and I can't get enough!" Phillip said.
I thoroughly enjoyed watching manly and hairy Phillip getting nailed by Brodie. It's always a turn on for me to watch a masculine dude getting pounded by another dude and loving it. It just doesn't get any better than that!
It was also amazing to watch them in this setting, with all the wetness, water and steam all around them. A friend of mine told me that shower fucks are the best, and I tend to concur!
Brodie cummed directly into Phillip's face and mouth and Phillip didn't mind it at all.
"Cum tastes great!" Phillip was adamant. He even sometimes spits it out and starts to suck it again over another man's dick, using it as a kind of lube.
Click here to watch their entire video in perfect HD quality at Sean Cody!
Sean Cody is probably the most well-known gay porn site on the planet. They have impeccable taste in hot college men – check them out! All their guys are perfectly built, very masculine, and straight for the most part. However they will fuck a dude for some cash yay!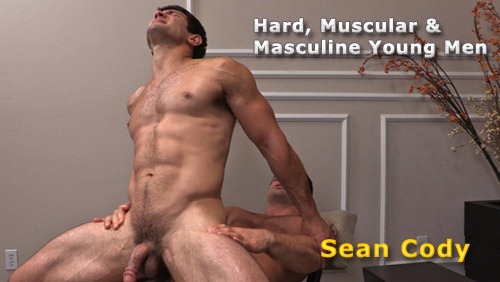 Leave a Comment
:big dick, bisexual dude, blowjob, brodie, cumshot in mouth, hairy chest, hairy legs, licking feet, masculine, muscled, Phillip, shower scene, steam
Click For More...