Here we have two hot updates from Englishlads. Naughty Mr. Gay UK Dan Broughton tempts two strictly straight guys and manages to make them do some gay stuff for our enjoyment.
First he seduces straight hunk Bezza. Bezza is a soccer player and we've been told that a lot of his footie mates enjoy watching his porn videos and regularly spy on him. So there's no question this latest video will be an interesting addition to their collection.
Not long after they've met, Dan is already inside Bezza's boxers and touches his big uncut cock inside. Bezza is very hung and his man meat has gigantic proportions. Dan is hypnotized by Bezza's large uncut member and can't get his eyes off him. Bezza's cock grows even larger in Dan's mouth and when he is fully hard, Bezza decides it's time he returned the favour and starts to wank off Dan!
Dan is a bit surprised by this sudden turn of events, so he grabs Bezza's cock, puts a condom on it and bends over for his straight mate to fuck him hard and rough in doggie style. They fuck this way for a while, then Dan rides Bezza's cock for some time until Dan begins to shoot his cum all over himself. Bezza seems to need some wanking to get off so Dan wanks and sucks his cock and makes Bezza ejaculate into his mouth. Bezza's cumshot was copious and totally drenched Dan's cock-hungry mouth and face.
****
The second scene is with Dan and Former Royal marine Tyler. We always love military men here, they are so masculine and rough without any exceptions.
Tyler's first shoot with us was very popular so we thought we should bring this naughty and pervy Royal Marine again. One thing that you should know about Royal Marines is that they love to take orders and today Tyler was an obedient marine. Or at least he was in the beginning. Towards the end he becomes more of a naughty and deviant marine!
When he strips down to his boxers, he jumps on the bed and out of nowehere a pair of man's sexy hands appear. Now granted, these hands are much more hairy than what Tyler would consider to be ideal (he's into women), but here he plays by our rules. Not long after that his boxers disappear and Dan is rubbing oil all over this marine's muscled body. Soon enough Tyler gives the permission to Dan to do with his cock what he pleases and Dan begins to stroke it.
Dan is in heaven playing with Tyler's beautiful dick and his foreskin. Dan then examines Tyler's hole and switches again to Tyler's cock. Now he takes Tylet's cock into his throat and gives it a thorough sucking. Tyler is really in luck – first a massage, then a handjob, a blowjob!
****
Preview videos: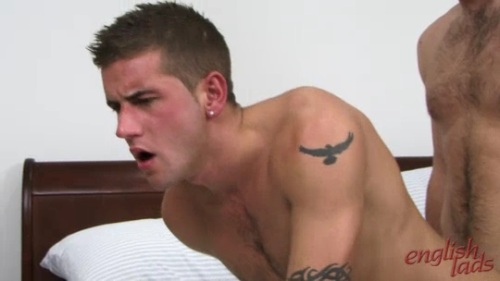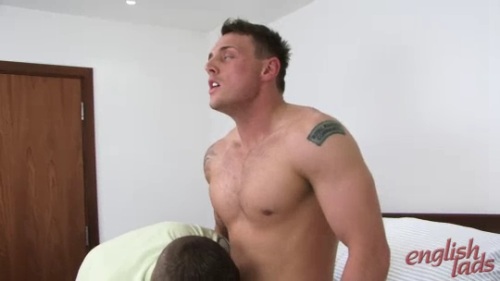 Click here to watch their entire video in perfect HD quality at EnglishLads!

English Lads is a fantastic site with loads and loads of very manly, straight lads from England who love to show off and jerk off for the camera. All movies are in HD quality.