by Ben Daniels (Admin) on Apr.24, 2014, under Manavenue
What do you do with a handsome blond hunk with a hard cock in front of yourself? Well, it's rather obvious isn't it? You write down some instructions and he follows them, one by one. That's what the guys at Manavenue did with Mickey Hardwood whose wood is indeed pretty hard and once it gets hard it stays hard for the whole time of the shoot!
This charming straight hunk takes orders from an undisclosed person that are written on pieces of paper and obeys them as they come. It gets pretty hot once he gets the instruction "play with your cock". At first he really does that, plays with his cock, then he takes some lube and puts onto it. The lube makes him even more horny and he really gets into the cock stroking mode now. We get to see his magnificent dick from many interesting angles, such as from below (frog perspective). It's a pity he shaved his balls, but he still looks great while stroking his man meat nevertheless. That beauty is just the right size and I've often wondered how cool it would be to see it in some other type of action, such as fucking.
Mickey isn't the bodybuilder type (thank Heavens) but looks more natural. Don't get me wrong, he has a very nicely built body, and this more natural look is certainly more appealing than massive muscles. At least for me.
Then he gets the instruction "Talk nasty things". Mickey's voice is quite deep and decidedly masculine and it's great fun to listen to all the profanities he's making up on the fly. I'm pretty sure he imagined some hot female whore while spouting the dirty words but I could imagine a male cocksucker just as well (maybe a bit of a stretch but we can hope…).
The seventh note is a question and reads "Is your dick really hard?". Duh, what kind of a question is that for Mickey? His dick is always hard when it needs to be. The next note says "I love guys flexing with boners", which is, like, stating the obvious because here we have a hot guy ready to flex his muscles while sporting a great boner! He comes closer to the window and wonders if there's anybody out there who'd like to see him flexing his muscles with a boner.
The next note says "Walk around proud of your hard dick". So we follow Mickey while he walks quite cockily around the apartment with his dick still fully erect. This was actually my favorite part, I always love watching big guys walking around with the fully erect cock.
The tenth note says just "Ass", so this is the right time to check out Mickey's hot straight ass. Unfortunately, he dispels any hopes for anyone to get that ass, since he's not into that kind of thing. Mickey then sits on a chair and lifts one his leg up into the air so we can better see his dick and ass at the same time. He says again "You like my ass? Well you can't have it. You can have my dick but you can't have my ass!" Hahaha.
The eleventh note says "Cum for me!". Mickey assumes a more convenient position, puts his legs on the table so he can better jack his dick off. He then focuses on the jacking off, and after a few minutes he starts shooting his load. The first few squirts fall on the carpet, while the rest he aims at the table and sprinkles it with his jizz. And the final note says "Drip dry." His cock, still standing at attention, is left to drip. However, there's nothing to drip because he shot pretty much everything while he was cumming, and the cameraman jokes saying "Dude, you failed! There's nothing dripping!" to which Mickey responds, "Fuck you and your written directions!"
Preview video:


Click here to watch his entire video in high quality at Manavenue!
Manavenue is an exceptionally good porn website that features masculine, cocky, muscled, powerful straight men, the type of guys that grab your attention while you're secretly ogling them in the street or in a supermarket. These tough motherfuckers are aware of their sexual appeal and want to show you everything they've got.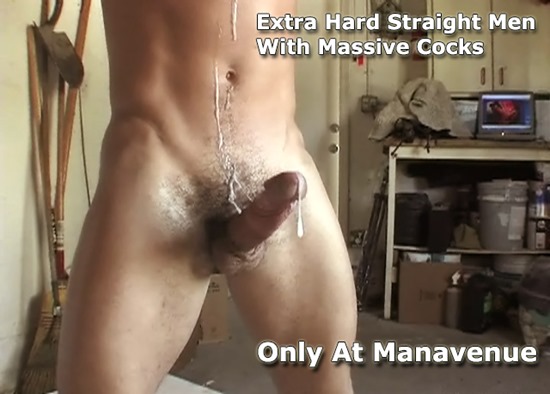 :big cock, Blond hair, blue eyes, deep voice, handsome, jerking off, Mickey Hardwood, stiff cock, straight men, stroking cock, walking with boner