Two horny, big dicked sex monsters are ready for a sweaty fuckfest! Christopher is newly founded and is quite a stunning hunk. He is a bulky bi guy, who loves giant dildos, eating hairy asses and fucking twinky bottoms. Today he is getting two of his three wishes! Seth, the hot, hairy otter has been wanting to get his ass drilled by someone with a bigger dick than him, so I am giving him that chance today. Christopher swings in with 9.5 inches of swollen manmeat and is eager for Seth's hungry fuck-hole. Seth wants a taste of what's cumming before he gets nailed. So he crouches between our former straight guys legs and does his best to deep-throat the entire thing. Not to be outdone in oral exercises, Christopher returns the favor, slobbering all over Seth's huge cock. While he's down there, Christopher decides to put a few fingers in Seth's puckered hole. First one, then two, then his thumb! Seth moans as Christopher gets his cock close to the hole, almost slipping the tip in for a little bareback action. While getting the life pounded out of him, brave twinky Seth blows out a river of jizz all over his furry six pack. Still fucking him even after he cums, Christopher is done with his ass plunging, pulls out of Seth, and unleashes thick gooey puddles of hot cum into the eagerly awaiting mouth. Seth slurps every last drop off the swollen throb stick and then lets it stream out of the corner of his mouth as he nuzzles our sexy top's heaving chest.
Short preview video: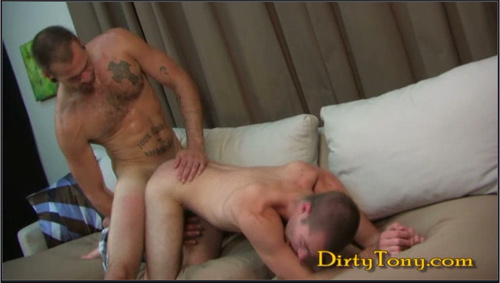 Click here to watch the whole movie with these two hot men in scorching hot action!