Peto Coast rides again on Machofucker, and this time the lucky bottom is Casper!
First Casper gives Peto a thorough blowjob, deepthroating his entire humongous cock every time he swallows it. He's a nasty little bitch and loves to be given orders and treated roughly. Peto forces Casper's head onto his big hard dick, but actually there's no need for that cause Casper is already so horny that he swallows it all the way to the balls already. He looks at Peto with such a cute smile which almost says "Please fuck me, I'm all yours."
Casper is totally nude and incredibly sexy. Peto wears sideburns and also wears white socks which really look hot on his big manly feet.
First Peto bends Casper over and fucks him doggy style (not shown on this preview video). As usual, Peto is very aggressive and doesn't go slowly at all. He just rams his dick into Casper without warning and fucks that ass very roughly. Casper utters a few squeaks as Peto penetrates him, but then he takes it all like a champ.
Then Peto has Casper lie on his back and lift his legs upwards so he can better stretch his asshole. His cock slides relentlessly into Casper's tight asshole and you can tell that Casper is already on the seventh heaven by his face expression. Peto then eats Casper's ass, spitting a lot into it so as to lubricate it naturally for more penetration.
Then Casper sits on Peto's dick and rides it for a while (some of it is shown on the preview video here). It's incredibly sexy to watch this penetration because both guys are so obviously into it and enjoying it completely. Peto's dick is very big and even after so much fucking and stretching Casper still finds it a challenge to take such a beautiful, huge dick. Every Peto's stroke with his dick sends shivers all throughout Casper's body.
Next we see Casper deepthroating Peto. He really takes his entire big dick and I can almost feel Peto's cockhead sliding through Casper's throat. Some gagging but then Casper's tonsils get a massage they deserve. Not long after that Peto puts Casper to lie on his stomach so he can fuck him from behind. It's such a hot ass-splitting action… and Casper screams occasionally from a mixture of pleasure and pain. Here we get a good look at Peto's white socks on his pretty big feet.
Peto is soon about to cum and he ejaculates into Casper's mouth. The first stream of cum hits Casper' on his shoulder and entire face.
Preview video: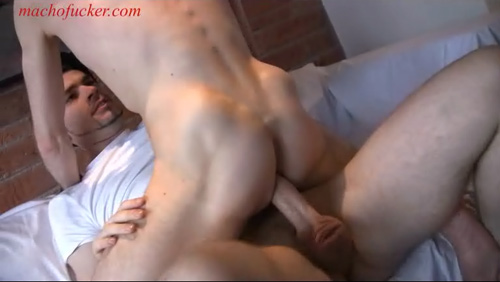 Click here to watch their whole video in HD quality at Machofucker!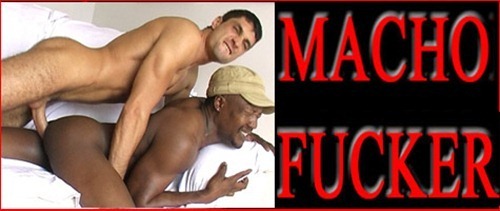 Machofucker is an excellent and refreshing gay hardcore site with tons of extremely hung and aggressive tops and cum and cock hungry bottoms. The action is always bareback mind you, and the tops almost always cum either inside the bottom's ass or in their mouth. Most of the tops are straight (and even married) men who treat these bottom boys like they'd treat real pussy. Tops are rough fuckers, bottom guys are pure fuck meat. There is no script and no fake sounds or dialogue, just hard and raw fucking. The picture quality is very good and the camera angles are also pretty good and innovative.
---