by Ben Daniels (Admin) on Nov.10, 2014, under CMNM
Oscar is a hot, young bearded executive who is very ambitious and usually stays late at work because he wants to leave a good impression on his superiors. When he's not working he spends his time in the gym, pumping his muscles and testosterone into his bloodstream. This young stud is full of life and wants to succeed at his new workplace. His motto is "no pain, no gain". He's recently heard that his boss mentioned that he could get a promotion, and that made him very happy and proud of himself.
However, Oscar is not aware of all the requirements that one needs to fulfill in order to get a promotion. For instance, during the interview his colleagues started to demand that he take off his clothes and began to inspect his private parts. Such an odd thing for an interview! All those men's hands touching his cock and balls have made him horny against his will, and his cock quickly grows fully erect. The pervy men continue to smell his armpits that emanate a very manly sweat scent and keep playing with his already fully erect dick. What will be the next requirement for the promotion, I wonder?
Check out these pervy men's wanton adventures in their whole videos in HD quality at CMNM.
Clothed Male / Naked Male (CMNM) is a superhot porn site where Nervous straight guys get stripped naked, groped and violated by fully clothed men.
There's nothing better than stripping straight lads completely nude, putting their bodies on display, and teaching them exactly how to submit! When they are in such a submissive position, one would be crazy not to use the opportunity and jerk them off!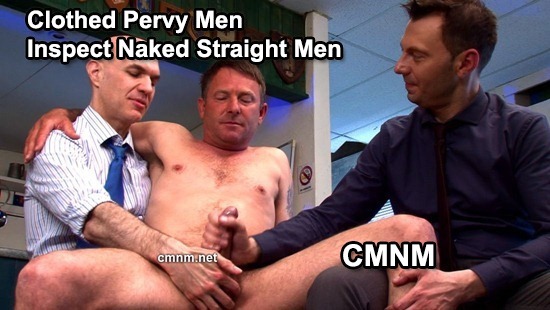 :armpits, beard, executive, handsome, inspected, Oscar, pervy men, spontaneous erection, suit and tie, sweat