Ray was an unexpected referral from Alan, one of the guys who showed up on the site about 2 years ago. When Alan asked him if he wanted to do something "a little different" for some cash, he figured, "Why not?"
Ray is 20 y/o and has the tell-tale Marine farmer tan you see around San Diego this time of year. I think his fair skin, along with the blond hair, is kind of sexy 'cos it makes the freckles on his chest and shoulders stand out. And those eyes! Talk about crystal baby blues.
Ray, it turns out, is a bit of a chronic masturbator and has jacked off… well, pretty much everywhere.
"Work bathroom. Every building I've worked in," he admits. "Car parking lots. Just wherever."
This was his first time stroking it on camera, though. Ray was a little on the nervous side, but doesn't have much to be ashamed about showing off. He's got a big dick and a pair of low-hanging balls. His cumshot was a nice one, too — a big squirt up his chest and a sticky puddle all over his stomach.
Short preview video: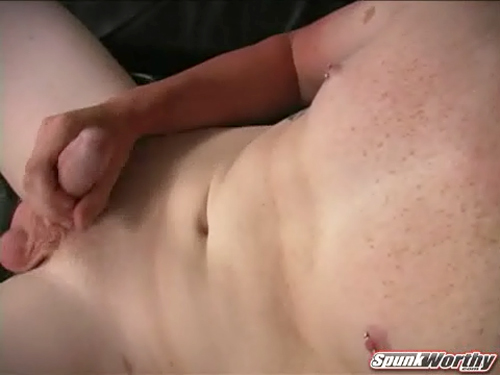 Click here to watch his entire video in perfect HD quality at SpunkWorthy!
SpunkWorthy is a great porn site that features younger straight amateur dudes. This site is usually the first and only place where you'll see these bad boys, so don't miss out!