Trevor is the union of (apparent) opposites. He really looks like a thug, full of big muscles and his face is that of a typical bouncer. His physical looks tells you "Don't mess with me or I'm gonna fuck you up!". But he is also smart and runs his own creative advertising company in a very nicely decorated office. He's got looks and brains at the same time.
Trevor loves to work out and keep his body in top form. He is also a busy man, and spends lots of time sitting in the office and working on computers. In this introductory video he tells us about his reasons for submitting his little kinky hobby and allowing the general public to have a peek into his private domain.
You can discern some nervousness in his voice, which is normal for every beginner in porn, but I have a feeling this butch guy will go far!
Short preview video: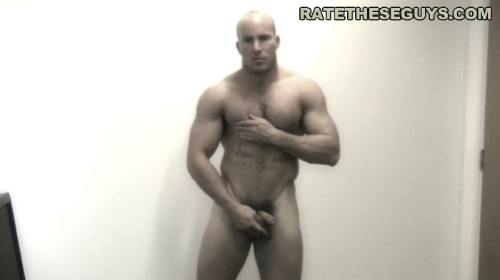 Click here to watch or beat off to their entire videos from
Rate These Guys!


All the hot straights on RateTheseGuys are desperate to earn high ratings on their videos, and YOU have CONTROL over how much cash they make and what they do in the future. Create CHALLENGES for them, leave explicit comments and interact with your favourites.
Rate These Guys is a brand new porn site for lovers of cocky, hot straight guys. The principles and rules are simple:
YOU:
The guys make videos.
You comment on their videos, as explicitly as possible.
You offer to give them a high rating.
The more they satisfy you, the higher the rating they get from you!
THE GUYS:
They shoot themselves on video.
They send the videos in.
They read your comments.
They try hard to please.
…And the guy who receives the highest rating…. WINS!