After having bottomed twice Solomon felt it was time he tried being a Top for a change. Solomon had some issues staying hard throughout the shoot in the first two films so he opted to bottom until his confidence grew. But now he really shines as a Top, and I must say he is actually a very aggressive and Angry Fucker!
I sent some pictures of Solomon to Vander and asked him if he'd like to bottom for him. While Vander is mostly a top he definitely loves to get fucked in the ass when the Top is according to his tastes, and he gets into a complete piggy bottom mode! So Vander's answer to my question was a resounding "YES!"
Meanwhile while I was preparing the shoot I got the idea that these two studs might try some toy play with FleshJacks and I just threw them in. These two men have never tried FleshJacks before so there was some awkwardness in the beginning, but after that they were totally gung ho about it and really got into it!
Next Solomon begins to fuck Vander and you might think he'd start slowly and carefully, but actually he was very aggressive and shoved his prick into Vander's ass as if it was an ordinary pussy! However, Vander absorbed the onslaught of this belligerent move and began to ask for more of it! Now Vander encourages Solomon to fuck him harder, not to stop and be as rough as he can.
Both Solomon and Vander are very masculine and their sweat smells like you'd expect from real men. It's musky and totally masculine. No wonder that these two males started to sniff each other's armpits and get aroused by the smell of another equally strong and manly man.
Solomon fucked Vander long and hard, and finally made Vander cum, while he was still inside him. Next, Solomon shoots his sperm onto Vander's ass (while standing) and makes a nice creampie.
Short preview video: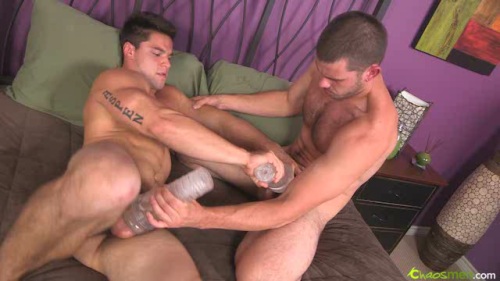 Click here to watch their entire video in perfect HD quality at Chaosmen!
Chaosmen is a great porn site that features hot straight and bi men getting serviced or fucking their mates bareback for some cash. This site is exceptional and very unique because almost every single fucking is bareback and ends with gorgeous internal cumshot or creampie.