The text description we got from "Fraboy":
"In our frathouse it's not always the bitches that are in high demand. You see, sometimes we want to recruit more of the hunkier, manlier guys who will be our main staple in the house… we need a lot of athletes and strong guys in this house. And these athletic bros always react in the same way when they see us using out low-key pledges or bitches. It's their "what the fuck?" moment. And right after they get it, they are on it – one hundred percent!  All guys have legitimate needs, and our athletic newcomers are no exception! When there's a bitch to serve a group of masculine men, its mission is to serve… "
Ben's commentary:
Another one of those crazy gangbang bareback videos that comes from FraternityX. I can notice quite a lot of new newcomers, especially among the tops. Let's take a look at who participated in the making of this video: Dirk, Finn, Cole, Ashton Silvers, Brandon James, Max, Shae, and Darren Blue.
Preview video: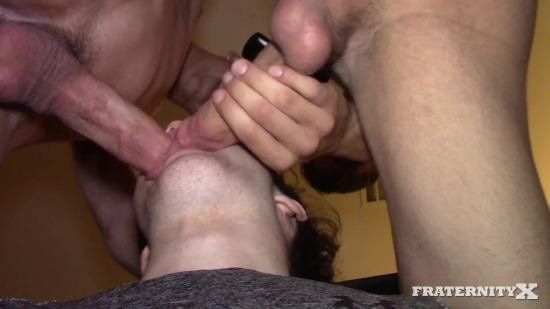 Click here to watch their entire videos in HD quality at FraternityX.
FraternityX is an amazing porn site that features a group of young, bisexual college boys who are sexually insatiable, always horny and ready to fuck a hole. They record their orgies and put them up on their website (FraternityX) and charge a small membership fee so that you can help put them through college!