It's physical exam time for all Trojan Motors football players. Although Charlie is a muscled footballer as far as his body is concerned, his balls are big and heavy, and his cock is a bit too large and clumsy. His sizeable male organs cause him a lot of trouble while he tries to run down the field in his football shorts. His balls constantly jump up and down and this makes his penis hard in no time – without any apparent reason!
The same thing happened when these inquisitive men started to fondle and touch his cock. It soon grew an erection and shot a nice big load of man jizz – quite unexpectedly and unprovokedly. Actually Charlie cummed directly onto his boss' suit.
Short preview video: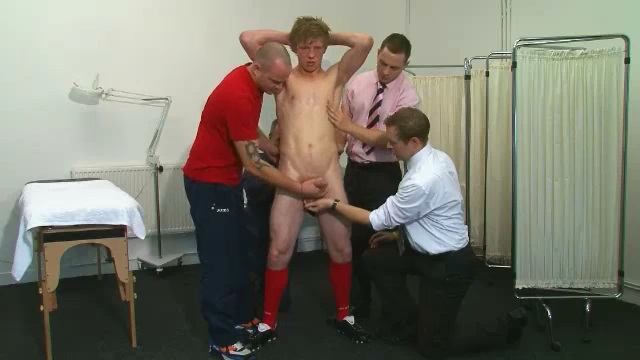 Find and watch horny Clothed Male/Naked Male videos in HD at CMNM now!

Clothed Male / Naked Male (CMNM) is a superhot porn site where Nervous straight guys get stripped naked, groped and violated by fully clothed men.
There's nothing better than stripping straight lads completely nude, putting their bodies on display, and teaching them exactly how to submit! When they are in such a submissive position, one would be crazy not to use the opportunity and jerk them off!