by Ben Daniels (Admin) on Sep.21, 2015, under BaitBuddies
Hunter is our latest straight boy who wants to star in porn movies in order to make some quick buck. Hunter is your typical "class clown", the boy who makes everyone laugh by constantly cracking jokes. He managed to fool us a little as well, I think, and we're not sure what's really true out of everything he told us. But who cares? Hunter is such great fun to be around, not least because of his great muscular body and amazing big dick!
For a 20-year old guy Hunter is pretty ripped, and let's not forget that luscious bubble butt of his, it's perfect. Hunter's 9-inch cock looks awesome when it gets fully erect – check that out. Hunter told us that he prefers ginger girls with big boobs and a big butt to boot. Curiously enough, our bait boy Billy Warren is a ginger boy, but obviously he doesn't have big tits! When Caruso made that remark, Billy interrupted him and said "I got a big butt" – and sure enough, that's true. Billy's butt is fantastic specimen of hot male ass.
Then when the girl doesn't show up, there's the usual story how she couldn't make it, blah blah etc. Hunter is very reluctant to even consider the idea of getting intimate with Billy, bit Caruso knows that Hunter needs to pay his huge phone bill. And then Caruso starts with some psychological stuff, such as: "ever watch two girls having sex in a video?". Sure enough, Hunter's answer is yes. Hunter doesn't waste the opportunity to crack another joke here. And so Caruso continues to apply his psychological approach until Hunter gives in and, with another laugh, agrees to fuck Billy.
Unfortunately, all this discussion has had a negative impact on Hunter's cock, which is by now quite soft. Such a sad situation! Caruso asks Billy to take the matter into his hands and revive Billy's tool. Billy is quick to obey and as soon as he started to stroke Billy's cock, Billy said, "I can't believe I'm doing this!"
Hunter's dick got hard again pretty fast and then Caruso tells Hunter to return the favor and play with Billy's cock a little. Billy's also got a pretty big, 8-inch dick and it was a real beauty to watch these two guys with erect dicks next to each other. Billy then starts sucking Hunter's dick and Hunter immediately goes into his "alpha male" mode and starts pushing Billy's dick onto his fuck stick. "it feels really good," says Hunter, and then adds "you can go deeper, take a deep breath… you can go deeper" and "all the way down to the root!" he gives these orders to Billy.
Billy snatched a moment to kiss Hunter without him being prepared for it, and Hunter accepts the game and kisses Billy pretty passionately. Who would have known? You see, it only takes a little bit of spontaneous passion to bring out the real passion in a straight guy. Hunter even demonstrated a very high level of skill while he was sucking on Billy's cock. Hunter then focuses on Billy's bubble butt and plays with it for a while. He comments with short utterances such as, "Nice…".
Then Billy bends over and Hunter starts fucking him in the doggy position. He just shoves his massive fuck stick and goes for it. Billy tells Hunter "you have a fucking big cock" while groaning and moaning. Hunter increases the pace and strength of his thrusts, and soon enough Billy says that he's about to bust a nut. So in order to prevent a somewhat premature ejaculation, Billy takes a little break and then impales on Hunter's cock and starts riding him. This position allowed the cameraman to take some really nice pics. Hunter's cock is now penetrating Billy's ass really deep and he continues to fuck him until Billy can't take it any longer and shoots his load with Hunter's cock still in his ass. Hunter also started to cum and barely had the time to remove his condom. Since a portion of Hunter's load remained in the condom, and Billy loves to eat cum, you can guess what happened next!
Preview video:
Click here to watch their complete video in HD quality at Bait Buddies!
Bait Buddies is a pretty hot straight guy site with plenty of updates and some very hot guys indeed. There is always a "bait" dude who is bi or gay, and a straight (or sometimes "straight") dude who needs to be seduced into gay sex.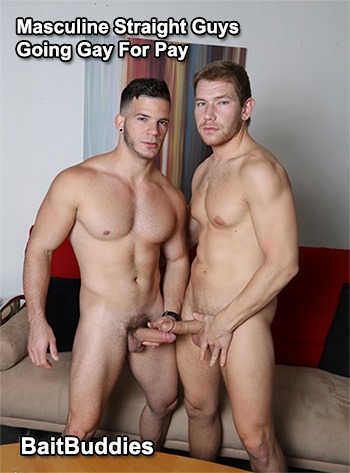 :aggressive fucking, Billy Warren, blowjob, cum eating, fuck the cum out, hairy legs, huge dick, Hunter Ellington, kissing, straight men, straight to gay