by Ben Daniels (Admin) on Jul.19, 2013, under GayWarGames
Cem is a hot, muscular guy who lives in the neighborhood and he'd like to join the Tchukistani paramilitary forces. He trains hard and works out every single day because he wants to be in the top shape when he asks to be accepted among the best of the men in his country.
While he was working out, Cem noticed that someone walked into the deserted compound nearby. As it turns out, it's a blonde boy who came there to jack off. Cem reckons that this cute boy needs to be taught a lesson or two regarding proper behavior. The boy must learn that there's a price to pay if you jerk off outside in public places like this and distract men who are working out.
The hot strong military man manhandles the poor boy and starts to train him. He forces him to lick his combat boots and inspects his limp dick. Cem shoves his own dick into the boy's mouth and makes him swallow it. Cem's cock grows quickly and soon fills up the boy's entire mouth and throat… but that's in the next part of this story, which we'll continue next week.
Preview video:


Click here to download their entire military video in HD quality at GayWarGames!
GayWarGames is a Russian bareback porn site with a distinct military theme. It has been around for some time, but lately the soldiers are really hot so I wanted to give you guys a preview of what you can find there. The tops are really straight-looking, mean dudes in camo uniform, and I must admit they defo turn me on. I am a sucker for soldiers and military uniform and these uniformed motherfuckers certainly push all the right buttons. The action is set in a fictional country called Thukistan. Apparently, young boys often get abducted by mean, sex-starved soldiers here and get brutally fucked bareback. Hot stuff.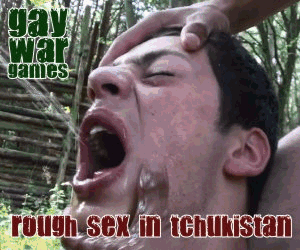 :BDSM, beating, Big Arms, camouflage uniform, combat boots, domination, forced blowjob, handsome, masculine, military men, military uniform, Pussyboy, shaved head, Training Sub Boy