Petty Officer Doyle is the kind of man we like to portray on Rough Straight Men the most. He is the epitome of the masculinity, complete with broad shoulders, square jaw and confidence in his attitude. But he is also handsome and totally charming, especially when he smiles. Doyle is truly the quintessential army man.
I really liked the interview before the main part of the shoot, where he talks about his training in the military as well as his various assignments so far. He talks about the friends he has made there for life, and how he builds bombs to "blow shit up!"
When it was time for action, I told him I put a video with "a educational content" and he immediately understood what I meant. He massaged his tool through the military pants and it grew in several seconds to its full size. Doyle unbuttoned the fly on his camouflage military pants and whipped out his sizeable cock – which was already fully hard.
Doyle shows us his cockhead, it is fat with the mushroom-like top, and just totally beautiful. It glistens in the light because of his precum. Slowly he gets rid of the rest of his army uniform and we can feast our eyes on his tight, slightly hairy body.
Then he lies on the bed and begins to jerk off faster. His big, bulging balls are obviously full of cum and ready to shoot. After some time his weapon starts to shoot and the first projectile goes all the way across Doyle and above the bed – and falls on the carpet! More long and strong squirts of hot cum shoot from his weapon and fall on his hairy underarm, the belly and the blanket. His hands are also completely covered in cum which oozes from his fingers.
Short preview video: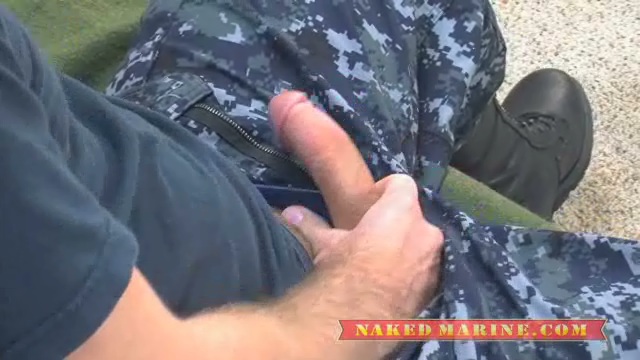 Click here to watch his entire video in perfect HD quality at Naked Marine!


Naked Marine is one of the best sites that are made especially for lovers of real masculine men in Military Uniform! This is the place to find your Military Straight Men in and out of their uniform as well as grunts having nasty gay sex!