by Ben Daniels (Admin) on Aug.24, 2014, under CMNM
There's been a rumour going on among the soldiers… that in this recruitment center there are two pervy soldiers that do the inspections and if you allow them to enjoy and inspect your body the way they want, they will probably be nice towards you and give you good marks and ensure you get a positive treatment in the military service.
It goes without saying that when you get in a good regiment that can mean a very powerful boost for your military career… you quickly climb towards the higher and higher ranks and things generally are much easier that way. So this new recruit, Paul, has already heard these rumours and he tries to be cooperative with the pervy soldiers that do the recruitment inspections! Paul would like to quickly rise through the ranks and become a lieutenant. He know the fastest and easiest way is to take a deep breath and let the pervy soldiers treat him any way they want until he gets their favorable marks and recommendations.
The pervy officers are totally preoccupied by the musky strong odor that comes from this new recruit's armpits, bushy genitals and hairy arsehole. There's no doubt that Paul will rise quickly through the ranks because he's obviously just what these pervy officers have been expecting to find in a new recruit. The officers are sniffing and examining his masculine body and noting all the tiny details about him.
Check out these pervy men's wanton adventures in their whole videos in HD quality at CMNM.
Clothed Male / Naked Male (CMNM) is a superhot porn site where Nervous straight guys get stripped naked, groped and violated by fully clothed men.
There's nothing better than stripping straight lads completely nude, putting their bodies on display, and teaching them exactly how to submit! When they are in such a submissive position, one would be crazy not to use the opportunity and jerk them off!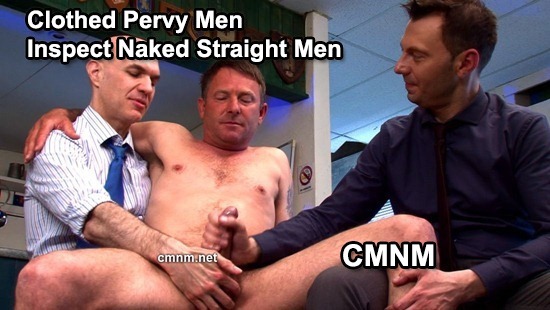 :ass play, camouflage uniform, inspected, military men, officers, Paul, pervy men, sniffing cock