There's a new cruising club that will be opening soon in the neighborhood. Club manager Franky Fox wants to make sure that everything is ready, squeaky clean and in order before the club is opened, but in his haste he forgets to close the entrance door.
Dani Robles happens to walk by and sees the open door. Thinking that the club is already open, he walks inside. Franky tells Dani that the club is not yet open, but since Dani looks so handsome and hot Franky just can't let this random encounter go to waste! He decides to show Dani around and tells him that the club management's main aim is to provide men with a safe space where they can relax and play after work.
While the two men are talking, Dani begins to get spontaneously horny and his dick in his pants starts growing uncontrollably fast! Just thinking and fantasizing about all that hardcore debauchery that is going to be taking place there was enough to get him all hard and horny. Dani confirms that he would be coming on Friday. However, it's already crystal clear to both men that their desire is already burning hot and must be quenched right then and there!
Preview video: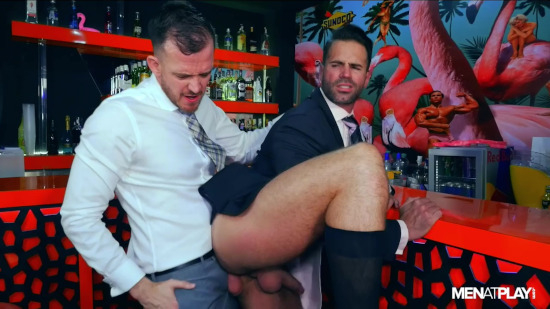 Click here to watch their entire movie in HD quality at MenAtPlay!
Men At Play is THE site for lovers of hot, studly men in their suits. These office guys are too horny to keep their member in the pants, so there is a lot of nasty fucking. This is one of the best sites on the net, don't miss out!