Professor Tyler Saint told his students that he expects them to give a satisfactory oral report tomorrow at the oral exam. Everyone understood it correctly except for his exchange student James Ryder who comes from the UK.
James is a bit confused as to what "oral report" and "oral exam" are supposed to mean. So James begins to suck on professor's huge schlong and asks him whether that is the type of oral report he was referring to.
In the meantime, another student Tory Mason, doesn't want to allow James to have professor's amazing thick dick only for himself, and joins the fun.
Professor eventually comes to the conclusion that both oral reports will be needed and who gives a better report next time will get a reward!
Short preview video: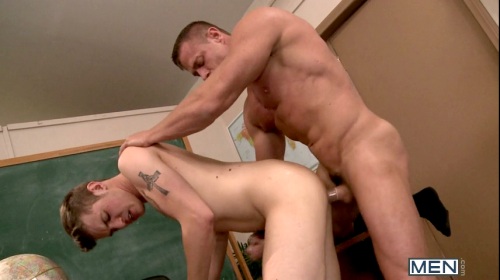 Click here to watch their entire video in perfect HD quality at Big Dicks At School!
What happens when a hot teacher meets a hot student who is misbehaved? Or when the student can't control his urges towards that super hot teacher? Find out at Big Dicks At School!
Big Dicks At School is a new site from the Men.Com network of sites. If you join any of the 4 sites in the Men.Com network you automatically get access to all 4 sites!