by Ben Daniels (Admin) on Jul.25, 2013, under BreederFuckers
We all know that work men can be really ostentatious and often do crazy stuff such as showing off their asshole to others. Bobby is one such work man, and he used to be quite cocky and liked to show off while he worked with his mates. But, today the tables are turned. He found himself in a closed space completely naked, only wearing a strap. His muscled ass is fully exposed to pervy aggressive men who love to inflict pain and punishment on cocky boys like Bobby.
His fit muscled back is relentlessly flogged whch makes his skin fully red and glowing with heat. He is furious at his captors but also completely helpless. After he's been punished severely by vicious flogging, Adrian thinks it's time to add some more psychological pain by making the boy hard and stroking his cock. Adrian tugs and jerks Bobby's cock until it gets fully hard, despite Bobby's attempts not to get aroused. Adrian strokes him until he's about to cum, and just before the cumshot Dave hit Bobby in the belly with his fist.
This boy is now fully trained, because whenever he gets hard in the future, he will recall the days he spent with the pervy men who taught him that being an arrogant prick is not cool and calls for a brutal punishment.
Preview video:


Check out the newest videos with arrogant straight guys being turned into obedient cocksuckers at Breeder Fuckers!
If you prefer your porn to be on the kinkier side, you should definitely check out Breeder Fuckers (formerly known as Straight Hell). Breeder Fuckers is a premium fetish site devoted to hot straight guys being tormented, humiliated and treated without mercy by big, mean & aggressive studs!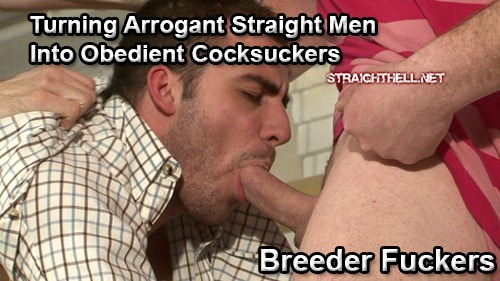 :BDSM, beating, bobby, Cruel Masters, domination, flogging, forced handjob, gagged, humiliation, punishment, strapon