Many of you have asked to see Lance getting fucked. At first he didn't want to hear about it at all, but he is such a horn dog that eventually I managed to persuade him that he's gonna like it.
I figured Spence would be the ideal choice for the top and break in Lance's ass cherry. And Spence agreed.
The two guys kissed for some time and then Lance got on his knees and began to suck Spence's hard dick. He got quite skilled by now, he's become a real cocksucker worthy of the professional title. Needless to say, Spence was in heaven and said that it was one of the best blowjobs he had.
Spence first fucks Lance doggie style until Lance gets used to this new sensation a bit. Next, Lance starts to ride Spence's cock and bounces up and down on it until he starts to shoot his load on Spence's chest. He really liked it – no question about that!
Then Lance sucks some more of Spence's cock in order to get him off. And Spence soon blew quite a bit of sperm on Lance's furry chest.
As I said, Lance is a complete horn dog and gets horny all the time, so he said he needed to get off the second time. Spence now returns the favor and blows Lance until he cums again.
Short preview video: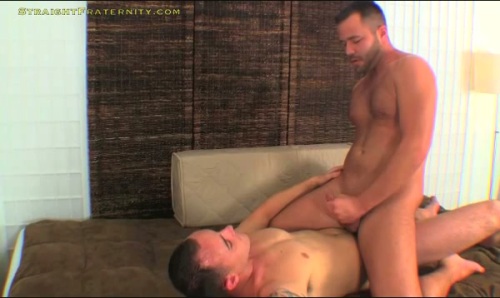 Click here to watch his entire video in perfect HD quality at Straight Fraternity!
Straight Fraternity is a great site that features hot and horny straight amateur guys. The guys here are funny, cool, and entertaining… and of course hot as hell… I'm sure you'll enjoy watching their antics! The site authors really love to show cumshots and if you're a cum lover, you will like this site.