We have master Nick and Master Master Nick fulfills an unusual wish from his two obedient slaves. The first one was proposed by Lee, who is Nick's dedicated slave. Lee frequently buys various things for his master, virtually any darn thing that Nick puts into his Amazon wish list ends up being paid by his little, obedient slave Lee.
Lee has a foot fetish and, unsurprisingly, he is deeply in love with Master Nick's big, beautifully formed feet. For Lee, there is nothing better than going with his tongue all over Master Nick's soles, and feeling the soft skin just under the toes. Lee admires the brutal power of Master Nick's strong heels and the sheer size of his feet. Lee would also like to get trampled on with Nick's feet. Damn, who wouldn't? Just look at those huge feet!
***
Master Guy thinks that his cock is awesome and irresistible. And you know what? He's right. This whole guy has a totally mind-blowing body, quite hairy, toned and muscular. His cock is beautiful and straight and uncut.
Many of Master Guy's slaves wanted him to make a video where he would tease them with his hard dick covered with something, but not showing it right away. I must admit I started getting horny as soon as I turned on his video. He is sporting a big hardon below that handkerchief and it's tantalizing to listen to his teasing and bullying. His balls are also full of cum, and he shot a great load of spunk right there into your face.
Preview videos: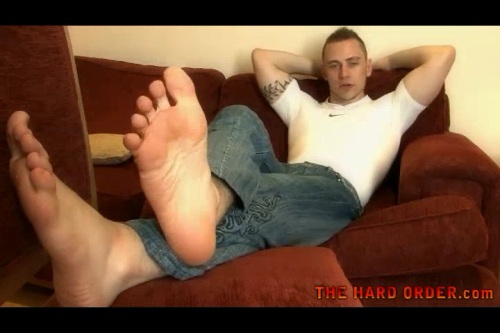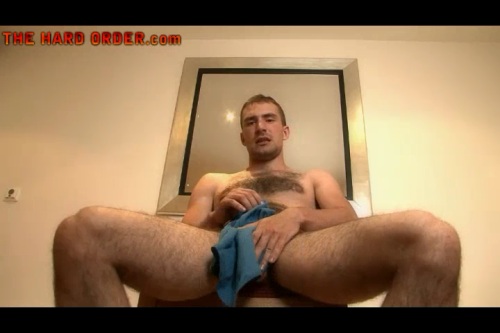 Click here to watch Master Nick & Master Guy's full videos in HD quality at The Hard Order!
The Hard Order is a brand new porn site from the makers of Rate These Guys. This site is made for submissive guys who are into strong, masculine doms. The site features lots of manly motherfuckers who will tell you what to do, and how to do it, and in the meantime they'll show off their perfectly built body and hard dick.
The Hard Order is a class of online financial dominators who control you, your orgasms, your thoughts and your wallet.
The men of The Hard Order have individually become skilled at dominating men sexually both online and off line. Each have found tremendous pleasure and financial reward by dishing out severe humiliation, cum control, BDSM and CBT. It is natural that they have come together to form a group dedicated to the online financial exploitation of paypigs such as you. If this is your cup of tea, you won't be disappointed.