by Ben Daniels (Admin) on Apr.27, 2014, under Brutal Tops
In the opening scene we find pathetic sub boy Elliot chained up and completely stripped of his clothes, kneeling in a seedy cellar. Jaime is a cruel Master who has just adopted this new pathetic sub boy and wants to teach him obedience. Jaime pushes his boots into Elliot's face and orders him to lick them up, like every good sub boy should do. But that's just the beginning of Elliot's humiliation, Master Jaime hasn't even started yet. He takes off his wife beater and we can now see his hot, masculine, muscled and hairy body. He makes the sub swallow his cock and gags him while fucking his face.
Jaime thinks the boy needs to learn the proper way to suck a man's cock, so he takes a huge dildo and starts fucking Elliot's face with it. He pushes the dildo all the way into the sub's throat. Next, Jaime orders the boy to impale himself on a rather big toy and to fuck himself by riding it. That new and unspoilt asshole needs to be stretched a little before the Master starts fucking it properly.
As if this wasn't humiliating enough, Jaime starts pissing into the boy's mouth while he jumps up and down on the big toy. Then Jaime takes a cane and begins to beat the poor sub until the sub assumes the position on all fours. This is an overture to the main course of the day.
Next scene, Master Jaime works out and gets all sweaty. He feels full of testosterone and wants to release the pent up anger and frustration on his new sub boy. Jaime makes the sub boy lick his sweaty hairy body, especially the most sweaty parts such as the armpits. Elliot is a good and fast learner and he obeys his master well. Jaime gets even more horny when he notices that his boy has been a good student. Jaime takes off his kit and we can now see his very hairy ass cheeks. The poor boy is now forced to bury his face into that hairy ass and lick it clean.
The master fucks the boy's face again, and now there's some precum leaking from the Master's dick. The Master spits into the sub's face and orders him to continue to suck his cock.
In the third and last scene in this part Master Jaime has some soccer shorts and a jockstrap. He quickly loses these and remains buck naked so we can clearly see his extremely hairy and strong chest, legs and butt.  The sub is whiffing around the Master's body trying to absorb as much testosterone and man scent as he can. Jaime removes his jockstrap and his stiff hard dick is now at full mast. Again, he shoves that dick into the sub's pitiful mouth and starts face-fucking him. This was a particularly aggressive face-fucking session as the boy is forced to suck it until he can't swallow his spit anymore, and it dribbles out of his fully stuffed mouth. The cruel Master is delighted with the results of his training and he bends over Elliot and starts fucking his sorry ass very hard. The sub boy is squealing and wailing, but the dominant Master ignores it all. The aggressive top drills the sub's ass good and hard until it's fully stretched. In the last scene we see the sub on his back, legs pushed up in the air, and Jaime fucks him in that position. Jaime is now close to cumming and he pulls out and shoots his wad directly into the sub's mouth. The sub's mouth is spunked and his ass prepped for further training. Job well done.
Preview video:


Download this one and many other horny new BDSM videos at BrutalTops!
Brutal Tops is a fantastic site for lovers of the most ferocious sexually aggressive doms in the world. These dominant men love to give orders which have to be obeyed!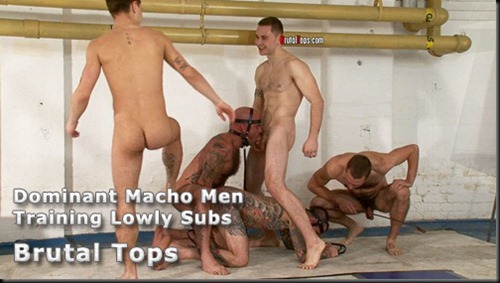 :dominant tops, Elliot, face fucking, facial cumshot, fucking, hairy ass, hairy chest, humiliation, Master Jaime, muscled, pissing, submission