Tom is an avid motorcycle lover. He never parts with it, it's part of his life. Today of course he showed up with his motorcycle as well. During the interview he enthusiastically tells us about the motorcycle and its vibrations and how they remind him of the girls he often fucks.
An interesting turn of events happened when he told me that he participated in a couple of three-ways that included other guys, but "the girl was generally the focal point". Ok, got it.
So it was time to see that big dick of his and boy oh boy, it's really long. Like a snake. Tom dropped his pants to his ankles and whipped out his monster cock. He used the porn on his phone to get hard. He strokes it continuously and adds some lube to ease things.
His dick is curved a bit and it gives him an even hotter look. I took several great close-ups of his curved big dick and balls. His balls are also considerable in size and they bounce while he strokes his tool.
After some time he was ready to cum and a thick cream of sperm flowed from his dick all across his belly and hands.
Short preview video: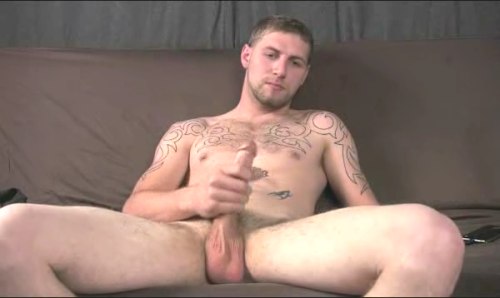 Click here to watch their entire video in perfect HD quality at Straight Fraternity!
Straight Fraternity is a great site that features hot and horny straight amateur guys. The guys here are funny, cool, and entertaining… and of course hot as hell… I'm sure you'll enjoy watching their antics! The site authors really love to show cumshots and if you're a cum lover, you will like this site.