Blake Bennet is a young, hairy and relatively skinny bisexual lad. He spent all of his money that he earned by performing on our site on a brand new motorcycle. Blake adds, "It's gorgeous". We trust him, but we are far more interested in his today's fuck scene with big, muscular straight boy Johnny Forza.
Johnny Forza is all muscles, you can clearly see all his ripped biceps, triceps, pecs and abs even through his t-shirt. Johnny has not bought everything he had planned so he's back to earn some more cash by fucking bisexual guys.
Funny how Johnny was absolutely sure that he wouldn't be back on our site last time, he thought it was a one time job. When straight guys smell easy money they become pretty easy going about fucking other guys. That's the whole "secret" about their quick transformation which some people mistake for them being gay all the time.
Both boys remove their clothes are remain in their boxers. I can bet that nobody in their right mind would say "no" to either of them, but there are differences. Blake has tanned skin and slender built, while Johnny is like a big military tank, all buffed up and ripped with huge muscles.
After some handjobs Blake takes Johnny's stick into his mouth and begins to suck it slowly and delicately. Blake doesn't suck cock fiercely like many other men, he takes his time and sucks it carefully and with great care, as if he's making a piece of art. Blake also sucks on Johnny's nipples and abs, and after some time the guys kiss each other.
Next up, Johnny takes Blake's head and roughly pushes it onto his cock, and begins to face-fuck him. Blake is obviously fond of Johnny's hard meat but this tempo was a bit too much for him.
The guys kiss each other again for some time and then Blake goes on the couch and assumes the doggy position. Blake can't get his eyes off Johnny's big fuck stick.
"You've done this before, right," Blake asks Johnny, but Johnny doesn't answer anything and just puts an evil grin.
Blake starts to moan and grunt really loudly, even though his man fucks him at a relatively slow pace. But damn! that dick is so huge, it must have hurt poor Blake.
Blake manages to mumble "Fuck me," and Johnny starts to fuck him faster. Blake chews on the couch as his top is stretching his ass to a whole new dimension.
"Oh, fuck yeah," Blake yells as Johnny is advancing in his ass with his thick and long chisel. Johnny has definitely found Blake's prostate and its massage has done its thing, so Blake announces that he is about to cum. Soon enough he ejects a rather large load which hits him on his chest, stomach and couch.
Johnny pulls out and wanks his dick until he shoots his load as well.
Preview video: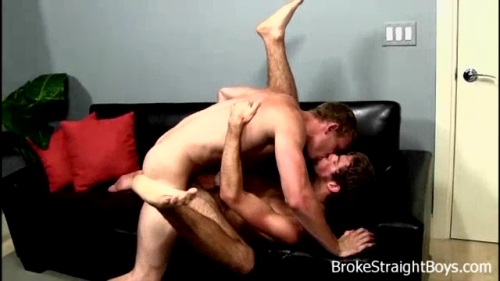 Click here to watch their entire videos in perfect HD quality at Broke Straight Boys!
Broke Straight Boys is one of the classic straight boy sites that features hot straight and bisexual guys who are ready to sacrifice their hetero reputation and straight virgin ass and engage in some hot and nasty hardcore fucking. New movies have totally new guys which look awesome!