We have a new recruit at Active Duty. His name is Broghan and he is only 22 years old. He is about 6'1" tall (185 cm) and weighs about 175 lbs (79 kg).
Broghan likes to do what guys of his age usually like, namely: play sports, drink and have a good time.
Broghan is not a loud type. I was surprised how quiet he actually is, certainly a man of few words. However, his body commands respect. He is one of the most masculine guys I've seen lately. His face is handsome in a manly way. His muscles are just about perfect and his cock is just the right size. When viewed through the pants his whole male package looks pretty impressive, but when released it is really big, thick and totally yummy. I tell ya, that schlong was made to fuck and stretch holes!
He slowly takes off his clothes and shows off his muscles. His torso is absolutely perfect. There is a bit of body hair and I think he's gonna get more of it in the future.
Then he releases his big snake. It looks huge even when it's not erect. His cockhead is also big and thick.
As most straight guys he was a little nervous but his cock wasn't! He had no problem whatsoever to shoot his load after a nice, sensuous wankoff session. He also gives us a nice view of his asscrack and asscheeks.
When our casting editor told him to turn over and show us his ass, he started humping the bed without anyone telling him anything about it. He's one of those naturally born fuckers!
Short preview video: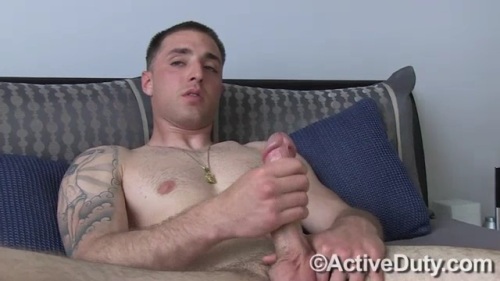 Click here to watch their entire video in perfect HD quality at Active Duty!
Active Duty is a great porn site that specializes in younger military men and uniformed studs in general. These men are usually real amateurs and you will see them only here. Ripped, muscled studs in the army and their insatiable sexual hunger will leave you stunned!
Active Duty is one of the oldest gay porn sites – but it has been recently updated and overhauled and now it looks brand new! Also all the videos are from now on in 2000 bit HD quality – so you can watch them even on your big TV screen!