Who could forget the tall, handsome and muscled stud Jake from previous episodes? He is now back to top a new recruit called Sawyer.
During the initial interview Dink asks Sawyer where he has been and he answers "Around". That kid has a real cheeky smile and I bet rarely anyone can say no to him. Dink told Sawyer that we had a rather big surprise for him today and Sawyer replied, "Oh, is that right? That's what I've been hearing."
Dink emphasized the word "Big" once again, adding "I don't know if you're gonna have that smile on your face in a few minutes. But let it last while it can."
Well, we all know where that "Big" thing is coming from. Jake has one of the biggest rods I've seen lately, it's not only big but rather thick too. Jake starts talking about his career changes. He says he is not in the Marine Corps anymore and that that made him very happy. We have no objections because as of now we can have Jake more often in our headquarters and pair him with cock hungry recruits.
Sawyer has seen some big schlongs in his life but I can bet that he's never encountered anything so big as Jake's massive, stiff rod.
Jake gets down to work and inquires at Sawyer about his cocksucking skills. Can he suck his dick properly or not? Sawyer admits he's a beginner and still learning "learning the tricks of the trade." Duh! I bet he can suck a man's cock much better than any girl already. But these straight guys are so shy and insecure about themselves sometimes.
Jake removes his pants to reveal his rather big soft dick, and adds that it will definitely grow much more. Sawyer is amazed at Jake's strong and perfect abs and begins to caress and examine his chest slowly using his mouth and lips. Occasionally he jerks Jake's cock to help it grow. Jake's fuck stick is now definitely growing bigger and thicker with every second and Sawyer begins to suck it.
Well, it's not easy to suck such a big and thick tool, that's for sure. That's why Jake has that evil smile all over his face because he knows that Sawyer's mouth is now full of his man pride.
"You're right," Sawyer says while he's trying to catch some air after having chocked on Jake's boner, "It does get big." However, Sawyer takes his cocksucking task seriously and continues to suck that schlong. When Sawyer made a little break Jake's cock stood right across Sawyer's face, so we could see for ourselves that Jake's dick is as long as Sawyer's face!
Sawyer removes his boxers and Jake now begins to work on Sawyer's cock as well. Jake now sucks Sawyer's cock and jerks him occasionally.
This was a rather long intro into the main dish of the day, namely the part when Jake nails Sawyer with his huge stiff fuck stick. Jake says "Sure you can handle it?" Jake puts first his cockhead to give Sawyer some glimpse into the size of his fuck tool. Sawyer has his had buried in the pillow and moans "Slower, slower, slower!", then after about one minute, "Oh my god, your dick is so huge." Whoever said that size doesn't matter?!
We got some pretty darn great shots while the guys were fucking like little rabbits. Sawyer is in some serious pain as he tries to take Jake's forceful thrusts and accommodate his entire cock in his ass. They change positions and now Sawyer is on his back and relies on Jake's biceps to support himself while his feet are helplessly in the air. "I've never had some much pain and pleasure at the same time," Sawyer admits to Jake.
Now Jake positioned Sawyer in such a way that Sawyer's legs are back with his hands so he can fuck Sawyer's hole more easily. Sawyer is wanking his own cock and cries while Jake plows his hole with unmitigated force. Suddenly Jake pulls out and shoots his big load all over Sawyer's ravaged ass. Sawyer is pretty much demolished and is shaking all over, but his dick didn't mind it one little bit and shot a nice load of jizz straight into the air and on his chest.
Preview videos: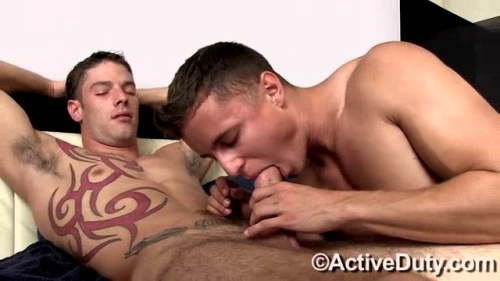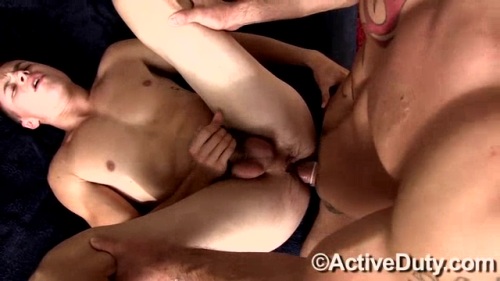 Click here to watch their entire video in perfect HD quality at Active Duty!
Active Duty is a great porn site that specializes in younger military men and uniformed studs in general. These men are usually real amateurs and you will see them only here. Ripped, muscled studs in the army and their insatiable sexual hunger will leave you stunned!
Active Duty is one of the oldest gay porn sites – but it has been recently updated and overhauled and now it looks brand new! Also all the videos are from now on in 2000 bit HD quality – so you can watch them even on your big TV screen!