Latin hunk Marco Lorenzo has been experimenting with guys for some time, and he has become so delighted with men that now he cannot stop looking for new guys all the time. Needless to say, Marco prefers them to be muscular and big-dicked!
Luckily, the Baitbuddy's director Caruso has recently stumbled upon a new straight hunk called Rick. Rick is an ex-rugby player, very well-built, with strong bulging muscles, deep masculine voice, and nice big, thick and meaty dick. Rick also has a very inviting big muscular ass.
At the moment, Rick is single and, since there is no girlfriend around to constantly keep an eye on him, he's free to explore his sexuality and try his luck in porn. Rick says that he's especially interested in experimenting with kinky stuff!
As is usually the custom at Baitbuddies, Marco and Rick first have to get naked, and then get their cocks hard. Then they have to prove that they can maintain their cocks erect even when other hard cocks are nearby. The guys passed this test with flying colors, and then it was time for Caruso to bring so-called bad news about the girl that didn't come for their scene.
After hearing the bad news, the guys are a bit disappointed, but Caruso promptly offers them a better deal – he will double their money if they agree to have sex with each other.
Rick really needed some time to think about this proposal and its pros and cons, but eventually he agreed to it because he couldn't resist the temptation of double the money and the opportunity to experiment with new things.
So now we have this gorgeous, masculine, ripped straight guy in his very first gay for pay video! We are pretty sure that Rick is not going to regret his decision!
Preview video: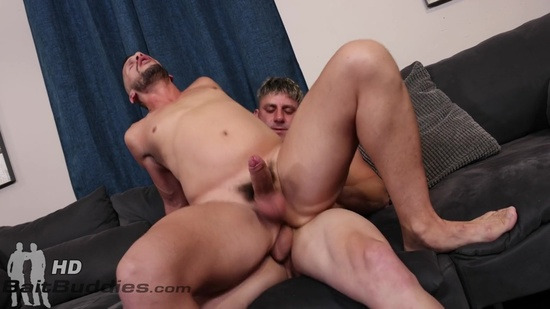 Click here to watch their complete video in HD quality at Bait Buddies!
Bait Buddies is a pretty hot straight guy site with plenty of updates and some very hot guys indeed. There is always a "bait" dude who is bi or gay, and a straight (or sometimes "straight") dude who needs to be seduced into gay sex.