Normally we don't shoot a solo jerkoff scenes here at at New York Straight Men, but for Hanson I had to make an exception. Hanson is a straight man and, try as I may, I couldn't talk him into getting a blowjob from a guy. But he promised he'd think about it.
So for the time being, let's enjoy in his passionate solo jerkoff session! Hanson lives on Long Island and works as a construction worker. He said we might be able to watch him on the L.I.E. in a hard hat and orange vest.
Hanson is about 6'3'' tall and has blue eyes. His hair is blond and his body is full of muscles! Hanson currently has a girlfriend and has a great relationship with her, so much so actually that they even have done a webcam show with her for the public. However, he has never experienced the real professional video shoot like this, so this was a new first.
Hanson is pretty photogenic and did a great job in his first shoot. I'm sure you'd also like to see him getting a blowjob from our cocksucker and I can promise we'll work on it! He said no guy has ever sucked his cock before, let alone in front of the camera, so it's going to be a challenge to persuade him but we'll certainly give our best.
Hanson has a very nice cock indeed, it's pretty big and impressive. Watch his entire film to see other parts of his well-built body.
Short preview video: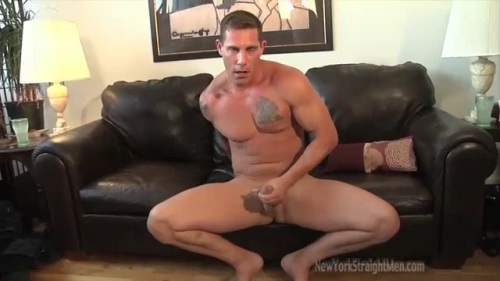 Click here to watch his entire video in perfect HD quality at New York Straight Men!
New York Straight Men is the world's biggest collection of straight men getting their blowjobs from gay dudes! These men are usually truly straight but they love getting head from a gay guy because it feels so much better than whatever their girlfriends can do. These men are not the Hollywood type cuties, they are Real Men!