Today we're going to re-visit one of those amazing classic blowjob videos from NYSM that you can watch 100s of times and they never get old! Michael is an ex-military guy who used to be in the Air Force. Now that he's back at home he wants to try some other things in life, and he was also looking for a job when this was recorded.
Michael's eyes are piercing blue and he's such a cute, handsome and naturally masculine guy. Although very polite and soft-spoken, when he gets turned on, Michael becomes a very dominant guy who likes to be quite vocal and give orders to his cocksuckers on how they should suck his dick.
Michael is now a divorced man, and he says that he's quite a popular lady's man. He loves to fuck women quite often and at the time this was recorded there were several girls that he dated at the same time. However, that doesn't mean that Michael doesn't appreciate a good blowjob from another guy. He says he has gotten several blowjobs from guys while he was in the military. At the interviewer's suggestion that maybe it's best not to talk about it much more, Michael cheekily remarked that in the past there was a rule "Don't ask, don't tell", but it's not a big deal to talk about it anymore.
Michael says that he doesn't mind if a guy sucks his cock, because "A mouth is a mouth", and guys often do an outstanding job as cocksuckers anyway. Over the years, he has gotten his cock sucked in restaurant bathrooms, and once he even shot his load into a guy's mouth along the West Side Highway!
Having saved his load for several days, Michael was extremely horny, pumped and ready to get his cock serviced the right way! He demanded that the cocksucker get on his knees and submissively suck his dick, which got hard in no time. Michael was quite demanding of the cocksucker, and kept telling him in a commanding voice how he should suck his cock. He was very pleased with his cocksucking skills, however, and later said that he totally enjoyed the blowjob.
After he let the cocksucker feast on his beautiful stiff and thick cock for quite some time, Michael was near the point of no return, and after a few strokes with his hand he blasted a huge load (3 big squirts and about 7 squirts in total), which splattered all over the cocksucker's satisfied face and t-shirt!
We made sure to include quite a bit of this classic blowjob video in the EXTENDED PREVIEW VIDEO below, so if you like these NYSM blowjobs, you should definitely check out the entire video at their website.
EXTENDED PREVIEW VIDEO: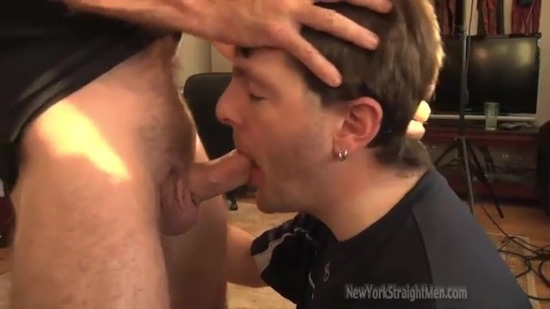 Click here to watch their entire video in HD quality at New York Straight Men!
New York Straight Men is the world's biggest collection of straight men getting their blowjobs from gay dudes! These men are usually truly straight but they love getting head from a gay guy because it feels so much better than whatever their girlfriends can do. These men are not the Hollywood type cuties, they are Real Men!