With that quote from Mae West we can only begin to realize what a hunk Kane Turner is. This 25-year-old Londoner was in the Army for a very long time. He was in the paratroopers, one of the most difficult to get in and the training was one of the toughest.
Kane says that the whole army thing brought him to the point that he felt like a powerful machine, and that it was good, in a weird kind of way. He says it took him months to return to the normal state of "ordinary" reality. He still likes that feeling and works out a lot. Kane has very strong legs and a massive chest. He also sports one of the biggest straight dicks that I've seen recently. All that with his strong, dominating, masculine look is even more accentuated with his shaved head. I mean you can't look tougher than that. His voice is also pretty deep and manly, quite determined and he never falters.
We first see him in his sexy sports kit, that he usually puts on when working out. He starts massaging that big bulge in his sports shorts. He takes off the vest and we can see clearly his strong, very muscled chest. His shoulders are broad, like in the best athletes. When he's talking to you he kinda towers over you, so you already feel dominated by his masculine power.
Kane takes off his shorts and we can see how it looks like, his uncut dick getting harder every second. He puts some spit on it and plays with the cockhead. Clearly this motherfucker knows how to pleasure himself, and I can bet he can pleasure other people just as good, if not even better!
He also plays with the foreskin, he knows there are so many lovers of uncut cocks out there. He then shows us some of the handsfree action, when he doesn't touch his dick or balls, just lets the dick twitch and dance. Imagine doing it that deep in your ass or pussy (for the very few but highly respected female readers!)
Kane goes on the sofa and sits there with his legs spread apart. He puts even more spit on his cockhead and pushes it in, while we can watch his cockhead pulsating. He obviously likes it wet so he puts some more spit on it. His dick is totally stiff all the time, just like a rocket and the rocket-launcher.
Then he gets on his knees and continues to stroke his rod. He's getting there, and increases the speed of stroking. Next second we see his seed squirting from his cockhead – this was an absolutely amazing cumshot which landed on the floor! He continues to jerk his dick and more cum follows.
Preview video: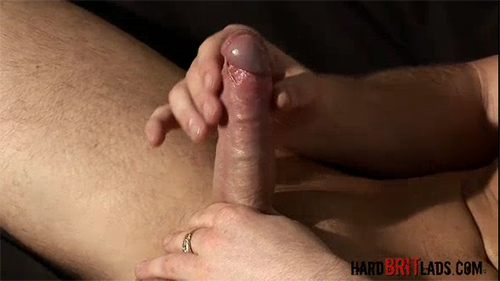 Click here to watch their entire video in perfect HD quality at Hard Brit Lads!
Hard Brit Lads is a relatively new porn site that features only the most masculine and well-built straight and bisexual guys showing off and fucking the shit out of each other. The videos are well-made and shot in HD. Don't miss out lots of amazing, manly men!