Alexander Green was here as our straight target about a year ago, and since then he's made quite a few straight, bi and gay porn movies. He now identifies himself as bisexual.
This time round Alexander brought us his Residential Adviser Alex Adams, the guy who keeps the younger residents in line at the college dorm. The two of them have been buddies and Alexander thinks that Alex is too hot to be allowed not to be in porn, so he brought us here under the pretense that they would be making a straight porno.
No wonder that Alexander thinks that Alex is hot – this masculine, blue-eyed straight stud is certainly the dream cum true for any real lover of manly straight men. Alex has blond hair and fair complexion and is ruggedly handsome.
Alex is only 25 years old but looks mature and muscular. His cock is almost 8 inches long and it's certainly a cock that needs to be in porn. When we asked him why he thought he should be in porn, Alex told us that "He has a big dick".
We played our usual scenario with Alex – the girl who was supposed to come for the shoot is late or got herself into some trouble, so now our casting director makes an offer: double the money if the guys fuck each other.
When the casting director proposed this, Alex got silent. Alex got suspicious that his buddy Alexander might have been involved in this all along, but Alexander denies it.
But the promised money is good, so Alex gives in eventually. Alexander just couldn't resist and suddenly grabs Alex's huge manly cock and gives his buddy a handjob.
Once a man's cock gets the proper treatment he just can't stop the chain reaction and the ball gets rolling. Alex first tries to look away and even closes his eyes (the typical stuff you can expect from a straight dude), but after a few minutes Alex is in!
Alex says it feels good, so why not get a new experience? So, after the initial problems there was some kissing, mutual jerking off, cocksucking, and finally Alex shoves his big fat dick into his buddy's tight and very willing hole!
Alex was not subtle and pounded Alexander's ass quite hard. Alexander enjoyed every second of this fuck session and was especially proud of taking his straight buddy's gay virginity.
I think it's safe to say that we'll be seeing more of Alex Adams in gay for pay porn movies. After all, the ice has been broken!
Preview video: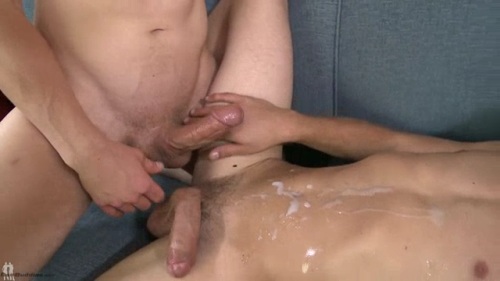 Click here to watch their complete video in HD quality at Bait Buddies!
Bait Buddies is a pretty hot straight guy site with plenty of updates and some very hot guys indeed. There is always a "bait" dude who is bi or gay, and a straight (or sometimes "straight") dude who needs to be seduced into gay sex.