Dominic Sol is a hot straight guy who was charged for driving under the influence of alcohol. He is 29 years old, 5'11" tall and weighs 175 lbs. The police officers took his measurements with great gusto and, what's more, they intend to blackmail him.
Dominic already served time in county jail for the same offence. When Parole Officer Black and his colleague figured out that Dominic is a repeat offender, they decided to blackmail him. They threatened to send him to jail for the rest of his life unless he lets Officer Black fuck his little tight hole.
Young Dominic thought about the whole thing and figured that it would be much wiser to offer his ass in exchange for freedom than to risk being in jail for the rest of his life.
Parole Officer Black is an aggressive motherfucker who doesn't have any kind of mercy towards his "prey". He treats these repeat offenders like animals and fucks them hard and raw. He was particularly turned on by Dominic and thought that the young bearded stud must be pretty hung, which turned out to be true (Dominic's cock is 8 inches long, the same size as Officer Black's).
Officer Black wanted to get a taste of that big schlong before he nails his ass, so he and Dominic exchanged blowjobs first. Then Officer Black ripped apart Dominic's clothes and shoved his cock hard and deep inside that tight hole. Damn, that was defo not tender fucking. The Parole Officer nailed him hard and aggressively, Dominic could only roll his eyes and look at the ceiling, hoping the whole thing would be over soon.
But Dominic's prostate got massaged quite well by the Officer Black's huge dick, so Dominic shot a huge load while being fucked by the nasty cop. Officer Black followed suit and dumped his load straight into Dominic's ass, breeding him nicely. Then he shoved it inside again to seed him properly. There were streams of cum oozing from Dominic's demolished ass.
Preview video: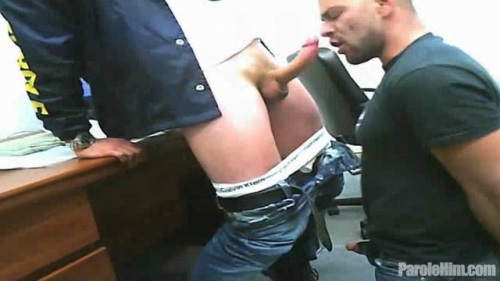 Click here to watch their whole video in perfect HD quality at ParoleHim!
ParoleHim is a brand new site that gives us a glimpse at all the nasty hot recordings from the police department where young thugs end up begging to be paroled. The big, masculine police officers have the last word, though, and will usually demand some sort of sexual favor from the sentenced thugs before they release them. Everything is being recorded on the security camera. You can expect to see a lot of aggressive face fucking and bareback ass drilling! Totally awesome. epic stuff and the action is sizzling hot!