by Ben Daniels (Admin) on Aug.28, 2015, under CMNM
Tom is a hot young journalist who wanted to be the first to write about the management of a famous football club that takes advantage of their players. Namely, there's a rumor about this football club which says that their chief management takes advantage of their own players by making them have sex in their homes, far away from the prying eyes of cameras and the public.
Alas, things have gone sour for Tom. Only now does he realize that his plan was all wrong! He finds himself stripped totally naked on a table in some seedy basement and two very pervy men are inspecting his ass and genitals. These men are much stronger than he is and there's no chance he can overpower them and run away.
The pervy men use their hands to inspect the boy's hot manly body, and they especially focus on his virgin straight ass. While they're probing his ass, Tom's cock begins to grow spontaneously. Soon enough Tom's cock is fully erect and the pervy men start stroking it.
Tom wishes he could tell someone what's been happening to him here, but he knows full well that nobody would believe him, and even if he told the press about this, the whole thing would be simply very bad for his career prospects! Tom knows very well that he must now endure this ordeal and take it all like a man.
Check out these pervy men's wanton adventures in their whole videos in HD quality at CMNM.
Clothed Male / Naked Male (CMNM) is a superhot porn site where Nervous straight guys get stripped naked, groped and violated by fully clothed men.
There's nothing better than stripping straight lads completely nude, putting their bodies on display, and teaching them exactly how to submit! When they are in such a submissive position, one would be crazy not to use the opportunity and jerk them off!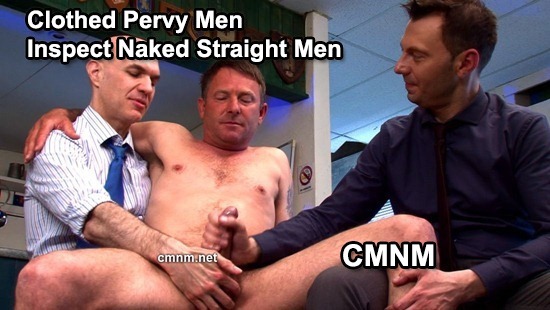 :big dick, cumshot, Fingering Ass, forced handjob, handsome, inspected, naked men, pervy men, sports outfit, stroking cock, suit and tie, Tom