James is a young, hot, muscled marine with broad shoulders and big cock. This very manly dude likes to go about the house completely naked, even in the presence of his best buddy Joe, who also doesn't seem to mind that one little bit.
James is almost always horny, that burning sensation of irresistible passion is always present in his crotch. Unsurprisingly, he often jerks off, as soon as he notices there's a need to release his seed.
Today we were playing quarters to pass the time, and James remembered that he had some dirty clothes to collect and put in the washing machine. He also packed some military uniforms and other stuff that he needed for a drill tomorrow.
After having done that, and not particularly in the mood to put on the clothes (it was pretty hot outside that day), he asks Joe if he has some good porn. Since all men have porn, Joe goes to the player and puts on some hetero porn.
James' cock is really big and thick. When totally hard, it looks so damn hot and imposing on his tight, muscular military body. James' buddy Ted just sits on the couch paying no attention to his buddy's jerking off. But I can bet he did ogle at him at least sometimes, at least to check out how he compares with his mate.
James certainly likes to show off, and with his hot body that was trained and perfectly shaped by the strict military exercises, it's no wonder why. I really like the atmosphere among these straight guys, they are so cool about each other walking naked around the house and even jerking off that I find the situation sexually charged despite the fact that these are all really straight guys.
Preview video: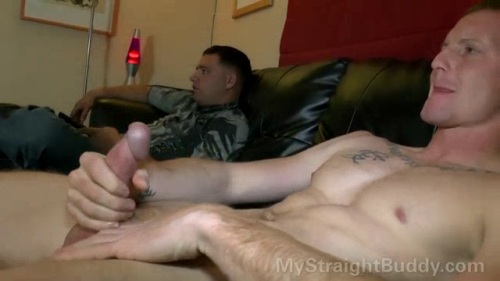 Click here to watch their entire video in perfect HD quality at My Straight Buddy!
My Straight Buddy is a brand new site that features genuine straight men fooling around among themselves. There are many porn sites out there with bisexual or gay men posing as "straight", but this site is different – the guys herein are truly straight and they don't fuck each other. We get to see how they spend time together and how they fool around. There are occasional blowjobs but not much more than that. There are many antics and the guys are usually pretty funny, hot and masculine.