We've already seen Jon last summer when he was here for a solo jerkoff session. I asked him right away whether he wanted to do a massage video and he told me he needed some time to think about it. This attractive, hot straight dude obviously needed some time to think about doing something more than jerking off.
Well, well, well… a couple months ago I heard from him again, and this time he was determined that he'd like to give that new massage video a try. When I asked him why he needed so much time to decide he jokingly said "I'm kind of a slow bloomer." and laughed heartily.
I must say Jon was pretty nervous when he came to my place. He is truly straight and has never been touched, let alone massaged or jerked off by another man. So this was certainly a big new beginning for him and a thoroughly uncharted teritory.
However, as soon as he was on the massage table with his face down he started to relax and even to get horny. I massaged his feet, legs and back… and he saw it for himself that it was actually pleasurable to be massaged and serviced by another man.
I started to massage his bubble ass too, and noticed that it was hairy. These hairs were blond and to me they looked hot on his butt. When he turned around his cock was already hard and I commented jokingly, "I guess it feels good."
I began to give more attention to his hardon and massaged it. His dick was getting more and more stiff. I noticed some jolts passing through his body, probably as a response to my handling of his dick.
When he was close to cumming, Jon's entire body started to clench and twitch. Boy, oh boy this straight stud really needed someone to service him. Suddenly he shouted he needed to cum and the next second he was shooting a nice load that went all the way to the floor.
Preview video: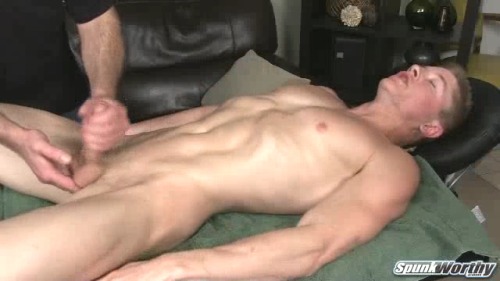 Click here to watch and download Jon's entire handjob & blowjob video in HD quality at SpunkWorthy!
SpunkWorthy is a great porn site that features younger straight amateur dudes. Lots of truly straight military guys doing gay for pay only once or a few times! This site is usually the first and only place where you'll see these bad boys, so don't miss out!