by Ben Daniels (Admin) on Jul.27, 2017, under Bentley Race
The owner of Bentleyrace, Ben, says that he has met a large number of hot men all over the world over the many years he has been shooting content for his site. And with some of these men he has become good friends – they see each other whenever he goes to their country again.
One of these good mates is David Sweet – a hot muscular Hungarian stud. David has been working out in the gym quite seriously during the past few years and it definitely shows – he's now buff and looks really impressive. David thought it would be great to make some new photos of himself, so he could have a professionally made set of photos as a testament to his new, sexy and powerful muscular physique. After all, all of us men love to show off and be a little cocky from time to time, it's just a man's thing.
It was winter in Hungary so the two guys had to go inside and make this photoshoot in the hotel room, but as you can see it was a lot of fun and the pictures turned out great!
David's cock is gorgeous, big and stiff. David flexes his muscles and walks around the room like a cocky peacock. FInally he lies down on the bed and starts playing with his stiff cock, then takes a fleshlight and fucks it with wild abandon. We're definitely looking forward to seeing a lot more of this hot stud.
Click here to watch his entire video in HD quality at Bentley Race!
Bentley Race is a very cool site from a cool guy from Down Under. He manages to find some really interesting and hot amateur men that often cannot be seen anywhere else. These guys are real amateurs and rarely become high profile porn stars. They're all natural and many of them are truly straight. Do check out BentleyRace!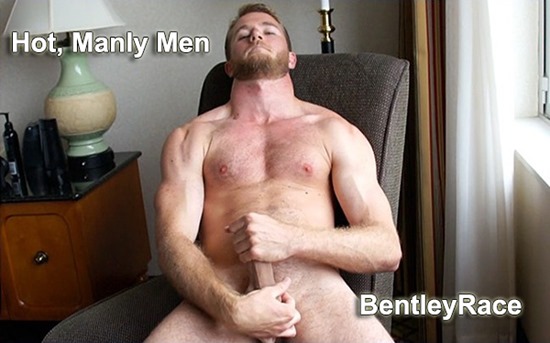 :big dicks, blue eyes, David Sweet, east-european men, flexing muscles, handsome, jerking off, masculine men, muscled, nude male studs, posing naked, showing off, stiff cock, uncut cock, upright cock