by Ben Daniels (Admin) on Sep.24, 2014, under New York Straight Men
We've already seen Ramsey on several occasions, and it's always great pleasure to be in the presence of this superhot manly straight dude. You can see some of his previous appearances here, here and here. But this is actually one of his earliest appearances, and was shot several years ago. It's so good that I think it deserves to be remembered, a "blast from the past" of sorts.
Anyway, Ramsey works as a drywall installer which means he relies heavily on his muscles throughout the day. He has a girlfriend, but she's recently moved away from his flat and he didn't like the prospect of having nobody around to suck his big cock, so he decided to give our cocksucker a try. Ramsey relatively often lets gay guys suck his cock because they have a consistently high standards and rarely disappoint. Ramsey is also quite specific and likes to describe to the cocksucker exactly how he'd like his cock sucked.
Christian is a very skilled cocksucker, but Ramsey gave him the instructions nevertheless: he'd like it to be "sloppy, wet and deep", and he took his cock in his hand to aim it into Christian's mouth. Of course, Christian didn't disappoint and delivered a very satisfying job, much to Ramsey's delight.
Christian managed even to deepthroat this guy's huge cock, swallowing it balls deep! This came as a little surprise even for Ramsey, not many women could deepthroat his magnificent huge cock. Christian slobbered all over that cock until Ramsey couldn't take it anymore and shot his wad all over. Later, Ramsey admitted that this was probably the best blowjob he'd ever gotten from anyone till that day!
Preview video:


Click here to watch their entire video in HD quality at New York Straight Men!
New York Straight Men is the world's biggest collection of straight men getting their blowjobs from gay dudes! These men are usually truly straight but they love getting head from a gay guy because it feels so much better than whatever their girlfriends can do. These men are not the Hollywood type cuties, they are Real Men!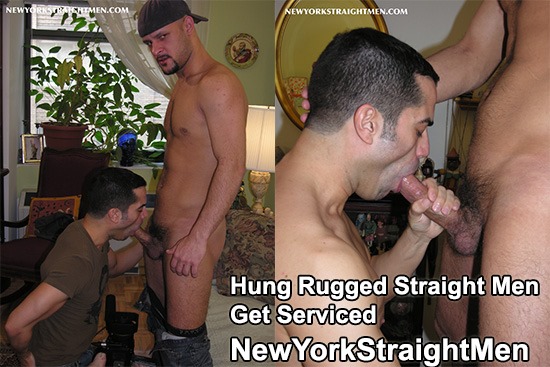 :beard, blast from the past, blowjob, blue collar men, Christian, cumshot, hairy chest, huge cock, Ramsey, straight men