by Ben Daniels (Admin) on May.17, 2014, under ActiveDuty
Sometimes we come across some recordings that were made years ago but that have never been published. And that's puzzling, and must have been due to an omission of some kind, because many of them are smoking hot! Take for instance this one with Big Jake and his buddy Jamie!
These two straight men were recorded while they were having their very first gay blowjob experience in their lives, which in itself is hot and intriguing to say the least. It wasn't exactly easy to talk them into doing this. The producer of this video remembers vividly that it took him almost an entire evening to persuade these straight guys to suck each other's cock – but as you'll see for yourself, it was well worth the effort. The first part of the video represents the main feature of the film, and then there are also a lot of outtakes that will give you an insight into the whole process and how these guys finally agreed to do this video. All in all, the whole video lasts 90 minutes, so it's a lot of material to watch.
The main producer Dink Flamingo set a challenge for the main man Jake that he should go out and try to recruit new military guys for the new shoots. So Jake went off and somehow he found Jamie. After some initial introductory interviews Jamie finally says that he'll give it a try and at least do a jerkoff video. But Dink, being a sly porn producer, tells Jake that he should attend this shoot as well and serve as a help and guide for the newcomer. You know, Jamie knows Jake as a buddy from before, and in this new situation for him, it's always better to have a familiar face next to you… one thing leads to another and soon enough we have two hot straight buddies jerking off one next to another.
Then Dink tells Jake to go downstairs – in the bedroom – and delivers the "shocking" news. There's some talk about the alleged "crossing the line" stuff, but Dink dismisses all that as nonsense and assures the guys that there would be no line crossing for anyone that night. The two guys are now one next to another in bed, naked, and watching some pussy porn.
Dink's phone rings at that moment and he uses that an excuse to leave the scene for a time. When he leaves the room, the two straight guys are left alone and we get to watch what they're talking about. Jamie is curious as to what's the meaning of "the fluffer" (the word he had heard recently). Jake is taken aback by this question, but then calmly explains that "the fluffer" is a person who is employed to keep the main porn star's dick erect (in straight porn it's always a dude). Just take a look at Jamie's face at the moment when he learns the true meaning of this word that had been puzzling his mind for some time! Priceless! He quickly retorts that he is not ready to do the job of a fluffer for anybody, but Jake is not someone who gives up so easily.
Just at that moment Dink is back and asks whether the guys are doing ok. Jamie is still confused and sits there in utter bewilderment while trying to figure out what's expected of him now. As it usually happens, men are curious beings and that urge to prove to themselves and others that they can do something almost always overcomes any type of fear. Jamie makes a radical decision – he's going to go to the next level, no matter what! His buddy Jake offers his help, too – a helping hand, a helping mouth – whatever his buddy needs. His long experience in porn notwithstanding, Dink is very much surprised that Jake was so quick to offer to blow Jamie's hard cock, and Jamie is surprised even more!
It was very exciting for me to watch this huge mountain of man – Jake – servicing his military buddy and sucking his cock for the first time. A challenge is a challenge, you know. Either you can do it, or you lose. And Jake is fulfilling his promise despite all the seeming difficulties and shame that usually may overcome one at moments like this one.
This was the very first time for Jake to suck another man's cock, but he was determined to do it so that his buddy can "get into the right mood". Jamie feels obliged to at least return the favor by stroking Jake's cock, and little by little, it finally dawns on Jamie that he might suck Jake's cock – to truly return the favor. So we get to watch these two hot straight military men in their very first gay experience exchanging blowjobs and getting each other off with their mouths. It wasn't nearly as bad as they had thought, and I think we just might see them again.
Preview video:


Click here to watch or download their entire video in HD quality at Active Duty!
Active Duty is a great porn site that specializes in younger military men and uniformed studs in general. These men are usually real amateurs and you will see them only here. Ripped, muscled studs in the army and their insatiable sex drive!
Active Duty is one of the oldest gay porn sites – but it has been recently updated and overhauled and now it looks brand new! Also all the videos are from now on in 2000 bit HD quality – so you can watch them even on your big TV screen!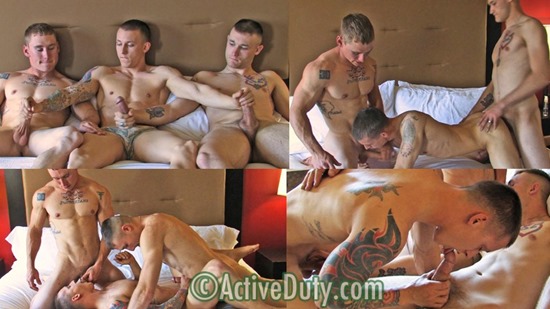 :beefy, big dick, cum eating, curved cock, facial cumshot, first gay blowjob, Jake, Jamie, military men, muscled, straight men, tattoos