Rado works as a mechanic and is currently trying to fix a broken tractor. He is approached by Mattias who offers his help. Of course, with hot men like this it's unrealistic to expect that they would be only fixing tractors…. Mattias' hand wanders around and reaches for Rado's cock, and Rado cheerfully responds by starting to face-fuck Rado's face.
Meanwhile, farmer Valentino comes across these two guys and decides to join the party. He is very sexually proficient and has had all kinds of experiences, but not with other guys and especially not in 3-way mode.
Valentino gets another surprise, and that is when the other two guys suck his cock and eat his ass, all at the same time. Valentino has never done this, and one can notice he's really inexperienced.
Valentino is a straight dude and he had no idea that getting serviced by another man, or sucking on his hard cock could be so pleasurable. Another surprise awaits him, and that is when he receives his first cock in his ass, and at the same time fucks another dude. Being a top and a bottom at the same time – priceless.
Valentino had to admit that Mattias' ass is so much tighter and better than any pussy, so it's no wonder that he cummed pretty soon and shot his load onto Mattias' thighs.
Rado follows the suit and shoots his load. This was certainly one fuckingly hot 3-way scene with super hot, manly guys.
Preview video: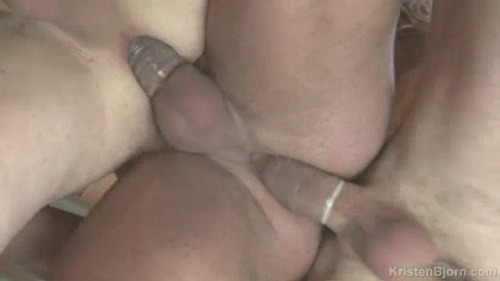 Click here to watch their entire video in HD quality at Kristen Bjorn!