by Ben Daniels (Admin) on Sep.23, 2014, under CMNM
Stewart is not an easy man to get along with. Since he's the boss of a company and is by nature a bossy motherfucker, he has a habit of storming into the office and telling people what to do or needs to be done. He obviously enjoys the attention and gets a major ego boost whenever he puts down other people.
However, he's made a huge mistake when he messed with a busty girl from work. Namely, she's one nasty talkative bitch who doesn't know how to keep a secret. We all know that Stewart wife is going to get furious if she finds out about this, and his whole ego-driven world of corporate success and being an impeccable husband could fall apart within days. The girl even possesses a compromising video recording with him, so the chances are his wife would file for divorce pretty soon.
Being blackmailed by her, she tells the two men with whom she works to strip him naked and inspect his nice muscled body from head to toe. Although he's into women only, these men's touches and groping of his genitals make him horny and you can bet that pretty soon he's going to get a full erection! More inspections are in order for this brutal, brazen boss.
Check out these pervy men's wanton adventures in their whole videos in HD quality at CMNM.
Clothed Male / Naked Male (CMNM) is a superhot porn site where Nervous straight guys get stripped naked, groped and violated by fully clothed men.
There's nothing better than stripping straight lads completely nude, putting their bodies on display, and teaching them exactly how to submit! When they are in such a submissive position, one would be crazy not to use the opportunity and jerk them off!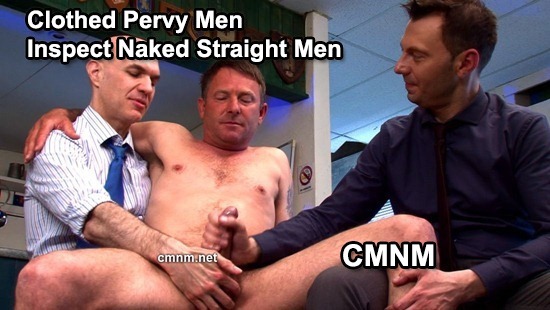 :bossy, Clothed Men, fit body, groping cock, inspected, naked straight men, Stewart, suit and tie