Lloyd is a young and cute straight guy who works as a mechanic. He is only 25 years old and he's already a dad of 2 kids. This little hottie admits that he's pretty much always horny! He works as a Pole Dancer at night at a local gay bar and he enjoys the attention he gets there. He says he definitely gets off on showing off his naturally smooth body and always rock-hard stiff cock! So it comes as no surprise that he enjoyed stroking that beautiful belly-slapper in this first debut at Islandstuds as well.
We get to watch Lloyd walking around and working with his power drill – all with full erection. He uses both fists to stroke that big thick dick of his and then manhandles his balls for the camera. He parades on the deck with his cock and balls dangling between his powerful thighs while trying to repaid the deck, and we can also see his virgin boy asshole wide-open and fully exposed to the sun! He then proceeds to pump iron while his cock is still fully erect. He takes a nice powerful piss with his boner, grabs his bubble butt with his hands and spreads his ass cheeks wide open on two different occasions! He goes on to pose and flex his muscles while continuing to stroke his thick throbbing cock, and then sits down for a well-deserved long jerkoff session.
Of course, this amiable straight guy is pretty talkative and he can't help but keep telling us interesting stories and anecdotes from his life. He moans as he approaches the point of no return and then shoots a nice load of jizz all over his thigh. He then heads straight to the shower to soap up his body, and especially his pink virginal hole! He seems to be especially proud of his virgin boy hole – and for a reason! We like it too!
"I don't mind getting naked for Men", little cute Lloyd says to the camera. He just keeps stroking his big thick Daddy Cock, completely sure of himself. Lloyd is 5'6" (168 cm) and he weighs in at 146 lbs (66 kg). He keeps telling us his stories about growing up in Florida, how his mother pierced his ears when he was only 3 years old, and how he fucked his first MILF when he was 20. He also tells us about his favorite sex positions and that he would describe himself as a DILF ("Daddy I would Like to Fuck"). Definitely an exhibitionist, this horny young Dad is almost always horny and he definitely didn't have any issues with keeping his cock hard throughout the entire video.
When he took off his street clothes you could see through his tight green underwear that his Big Thick Boner was completely hard and throbbing! This cure spunky motherfucker is such a horndog that it's almost funny. We loved when he took a set of weights and started to work out outside on the deck – his cock fully erect throughout the workout session, of course. His cockhead would reach all the way up to his navel! He loves playing with his dick while working out, obviously. As we all know, there is the very popular Island Stud's Naked Worker Series, and it would have been a terrible mistake not to include this little stud in it. The director gave Lloyd a power drill, while his own "tower of power" is proudly standing upright. Lloyd poses naked, works out and flexes his young muscles while working with the power drill.
Lloyd then gets on all fours, with his butt turned towards the camera, and starts working. His pink boy hole remains fully wide-open and exposed to the bright hot sunshine! That's a pretty awesome sight. Lloyd says that this was the first time he worked naked outdoors, and adds that he loved the experience. His cock and heavy balls keep dangling between his thighs and butt as he continues to work on the deck. We were very pleased with many great angles and views of Lloyd's feet, wide open ass, his pink boy hole and his thick stiff cock and big balls while he was working in the hot sun. But things become even more interesting when our horny friend needs to take a Pee! He walks with a full boner over to the banister, points his rock-hard cock in the direction of the forest, and takes a nice long pee off the balcony into the woods! There's no need for him to touch his cock, it just always stays rock-hard no matter what. He grabs his butt cheek while his piss blasts out of his hard throbbing dick! That's definitely one of the best hands-free pisses on Islandstuds!
After getting dirty and sweaty from work, horny Lloyd heads straight inside to treat us with a longish and very verbal jerkoff session. He's pretty imaginative about his cock-stroking techniques, and he keeps playing and manhandling his big balls. This was a really unique jerkoff scene, unlike any that has been seen so far on Islandstuds! It was very vocal! He kept at this crazy cock-stroking pace until he finally shot his load… which was also a sight to behold. His entire body shook and then he finally releases the long pent-up load! There were gobs of sticky cum all over his thighs and hands after he came. The director asks him to stand up so he can take some more photos of his cum-drenched body. With his cock still fully erect, Lloyd stands up and flexes his muscles!
Lloyd then heads straight to the shower while his cum still drips off his cock. He lathers up his body, paying special attention to his cock and bubble butt. The director gives Lloyd a gentle encouragement to show off his butt again for the camera, and Lloyd quickly obliges. His boyhole is now completely clean and dripping with clean water! If you like young Twinky Daddies who work as Blue-collar workers you will definitely love this video of young Dad Lloyd. It's not just a jerkoff video, but also filled with Lloyd's stories and personal confessions. Lloyd was actually just being himself all the time, and we really liked his spontaneity and quality of being genuine and natural. Lloyd joins an already very large Stable of real straight Blue-Collar Studs on Islandstuds.
Preview video: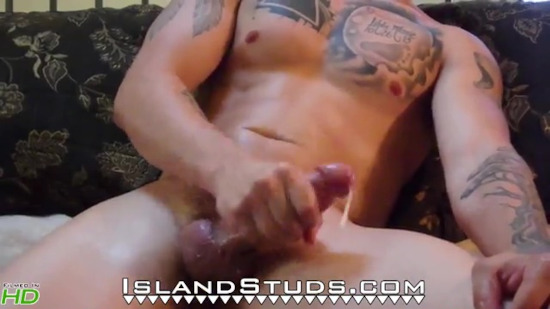 Click here to watch their entire movie in HD quality at Island Studs!
Island Studs is a great, new, and refreshing porn site that features hot guys from Hawaii. These bad boys have no problem with showing off their beautiful, toned body and hard cock. Watch them as they do their usual chores against the stunning backdrop of Hawaiian nature!