It's common knowledge that the Police Officers in this parole office are mean, sadistic motherfuckers who often fuck the young thugs and criminals. However, today Officer Johnson had another idea.
Officer Johnson has already fucked Mendoza numerous times because this hung Mexican immigrant keeps making the same mistakes and always ends up in this parole office. But today Officer Johnson had another idea what to do with him.
He ordered Benny G, a stupid thug and wannabe criminal, to fuck Mendoza. Specifically, Officer Johnson said "fuck my immigrant, or you're going back to prison."
Well, poor Benny G had no other choice but to fuck the big-dicked Mexican immigrant and be as aggressive and mean so that he pleases Officer Johnson.
Preview video: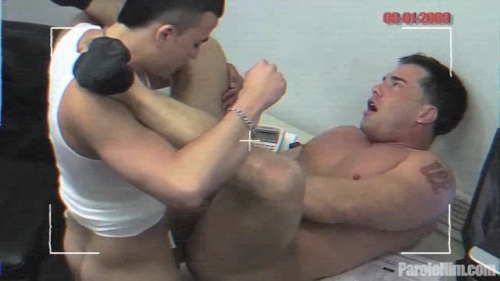 Click here to watch their whole video at ParoleHim!
ParoleHim is a brand new site that gives us a glimpse at all the nasty hot recordings from the police department where young thugs end up begging to be paroled. The big, masculine police officers have the last word, though, and will usually demand some sort of sexual favor from the sentenced thugs before they release them. Everything is being recorded on the security camera. You can expect to see a lot of aggressive face fucking and bareback ass drilling! Totally awesome. epic stuff and the action is sizzling hot!