We've already seen Kip several weeks ago. This hunky straight dude with gorgeous long hair works as a bar bouncer, so he's pretty rough around the edges. But, when you get to know him you realize he is actually a very laid back and open-minded dude. He announced he would like to do some more shoots for us (obviously the money was nice last time) and we were delighted to see him back. He told me that his girlfriend sometimes puts fingers up his ass and that he liked that feeling. So I asked him if he'd like to try bottoming this time, and to my surprise Kip agreed – no questions asked!
However, Kip asked me whether he could bring a friend of his whom he met at the titty bar where he works to be the man to deflower his ass. Kip told me that his friend Andrew worked with him in that bar for a relatively short time, and was unfortunately sacked on the spot because he tried to make out with a guy who was there with his girlfriend. Andrew identifies himself as bisexual but he says he switched mostly to guys recently. Can't really blame him, eh?
Andrew is a cute, handsome lad with a swimmers body, but when you compare him with Kip he's relatively small. It's a bit unlikely combination, to have a smaller dude fuck such a big stud like Kip, but there you have it. If Kip likes it that way we will have to agree with his decision.
The sex itself was pretty much standard, there's no need to explain everything in tiny details. They first start with a blowjob, then there's some sword fighting, frotting and kissing. Eventually they get to fucking and it was really the best part.
It's worth mentioning that Kip prepared a porno movie on his mobile phone to watch while getting fucked for the first time. It's a 3-way straight porn flick with girls and guys. I wondered why that scene, does Kip like imagining he's the girl being fucked? Weird! Anyway, who cares!
However, as soon as Andrew's dick penetrated Kip's ass, it seems the feeling was so good that Kip forgot about the porno altogether and just focused on the sensation of his ass being plowed for the first time. Occasionally he utters things such as "Oh God!". Later he told me it was way better than he thought would be. Well, duh!
Kip always cums quite a lot, but this time he surpassed himself. His big, thick load was quite epic and he made quite a mess on his chest. Some of his cum found its way even all the way up to his mouth. Since it came so in handy, he just took some of it with his tongue and tasted it. All in all, this was a pretty hot first gay fuck experience for our straight dude Kip.
Preview video: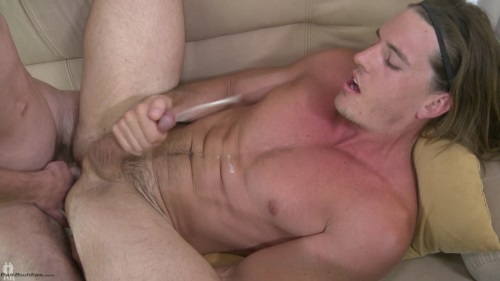 Click here to watch their complete video in HD quality at Bait Buddies!
Bait Buddies is a pretty hot straight guy site with plenty of updates and some very hot guys indeed. There is always a "bait" dude who is bi or gay, and a straight (or sometimes "straight") dude who needs to be seduced into gay sex.