by Ben Daniels (Admin) on Dec.01, 2013, under SpunkWorthy
Dakota and Preston have know each other for a while as workout buddies. Usually, these two straight dudes spend time together doing bench presses and pull-ups, but we managed to persuade them to make a mutual jerkoff scene for us! As is usually the case, some cash poured down their pockets did the magic trick and these straight boys are now lying on the bed next to each other, ready to whip out their cocks and get down to work.
I really dig this pairing, because it's a mixture of contrasts and similarities at the same time. Preston is a big, beefy and hairy man, while Dakota looks decidedly jock-like, with his fit, lean and muscled body. But both guys are certainly in the category of a real man's man, rough and manly. At the same time, it's interesting that they are also real-life buddies and often spend time together anyway… they just pushed their friendship a step further and experimented a little.
The two men whip out their cocks and lube them first. Then, they begin slowly stroking their dicks, but I found it funny that they tried to look away from each other, as if something bad would happen if they saw what the other one was doing.
I asked them whether it was a little weird to be jerking off next to their old-time buddy, and they answered "A little bit", Preston added, "but I'm getting over it."
There's no doubt that they managed to get over it, because in the next few minutes their glances aimed at each other became increasingly frequent and they kept on checking each other out. Sometimes they'd just peek at each other with a mixture of nervousness and secrecy. It's gotta be interesting to check out your long-time buddy while he's stroking his dick, I guess!
I asked them to turn around so we can see their sexy bubble butts, and they did. I asked surreptitiously, "So you guys wanna try something different?"
"Like what?" Dakota was fast to ask.
I told them that they'd earn much more money if they jack off each other for several minutes. There was some irresoluteness and hesitation, but eventually they both agreed. "That's what friends are for," Preston started cracking jokes while he was stroking Dakota's hard dick. It seems Dakota really liked this suddenly introduced helping hand because in just a few seconds he started to shoot his load, which dripped down Preston's hand.
Preston continued to whack off, but only seconds before he actually came, he asked Dakota to finish the job. Dakota's hand made Preston shoot his load.
Preview video:


Click here to watch and download their entire video in HD quality at SpunkWorthy!
SpunkWorthy is a great porn site that features younger straight amateur dudes. Lots of truly straight military guys doing gay for pay only once or a few times! This site is usually the first and only place where you'll see these bad boys, so don't miss out!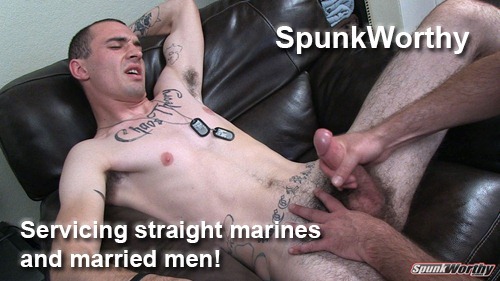 :Dakota, gym buddies, hairy chest, jerking off together, Jocks, mutual masturbation, Preston, straight men