This was meant to be an extra-video for the members area only, but we decided to give it to ya as a preview here as well. It contains one of Seth's epic cumshots, that's at least the reason I chose it.
Anyway, Seth and Addison Cooper were meant to have a blowjob scene where Seth would suck Addison's dick until he cums into Seth's mouth. But, Addison had some problems so he asked if he could take Seth's load instead.
You know, there's a theory I ran into some time ago… It goes like this. That it is the person who shoots the cum that is the active person. The person who gets hit by the cum is the fucked (or passive) person, or the bottom. Same thing for straight sex, but of course women are always the fucked person. But, what happens when you suck a man and he sucks you, but you cum on his face and he doesn't cum on you? Then you fucked him, but he didn't fuck you.
So in this scene it was Seth who actually cum-fucked Addison, even if it was intended to be the other way round. But, this was better, because Seth is hard to overcome in his copious, epic cumshots. He blasted the entire Addison's face with his spunk. See the proof below.
Preview video: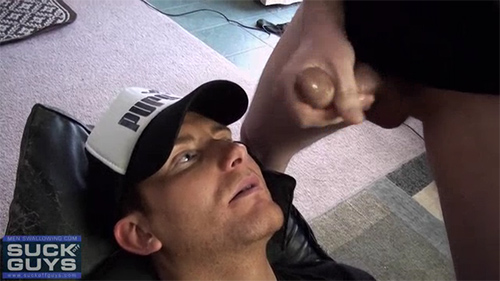 Click here to watch their complete video in perfect HD quality at SUCKOffGUYS!
SUCKOffGUYS is a very interesting and hot amateur gay porn site that focuses on blowjobs, cum eating, cumshots, cum play and all things cum! The site owners are obviously total cum pigs and it shows. Be sure to check them out if you're into beautiful hard cocks, blowing stiff rods and sperm in all varieties.