Nick and Toby work as policemen in a local police stations but their main hobby is actually to train submissive males who need to learn discipline.
Today they have Mr. Wilkinson who is already quite good as an oral slut, but needs more training. Mr. Wilkinson is forced to service the policemen's big hard dicks. Make no mistake, Mr. Wilkinson thoroughly enjoys in this. And when Sergeant shoved his dick into his ass that was the high point of the whole today's training. Mr. Wilkinson just couldn't believe he was so lucky to be manhandled by these two rough masculine cops!
His training didn't finish with fucking, though. Master Toby face fucks him while Master Nick drills his ass, sweat dripping from all three bodies.
After having used Mr. Wilkinson's ass, the two nasty policemen shoot their copious loads directly into Wilkinson's mouth, forcing him to swallow it all. Thick blotches of cum are dripping down from his face while he's attempting to swallow every drop that ended in his mouth or on his lips.
Short preview video: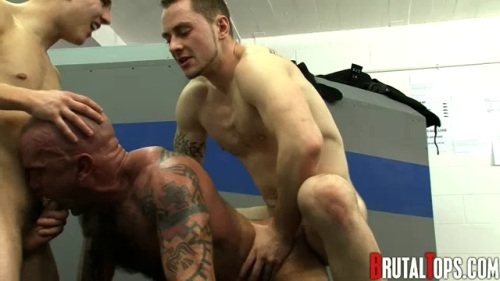 Download this and many other horny new BDSM videos at BrutalTops!
Brutal Tops is a fantastic site for lovers of the most ferocious sexually aggressive doms in the world. These dominant men love to give orders which have to be obeyed!